2011/12 lamb crop estimates from Beef and Lamb NZ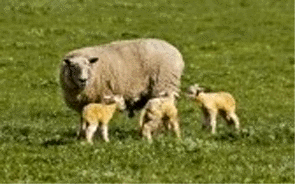 This years lamb crop is estimated to be 26.51 million, predicts Beef and Lamb NZ, and will be the second smallest tally in the last 55 years.
Numbers are up however on last year by 1.72 million, and were produced by 2.5% fewer ewes.
This represents a national increase in lambing percentage to 119%, which is a better return after last years storm related poor result.
More lambs were produced from the hogget crop and reflects favourable autumn and mild winter conditions sheep faced nationally.
A good growthy spring is allowing satisfactory growth rates and although early kill tallies are slow, it is predicted by the end of the first quarter processing numbers will return to the normal 24% harvest by the new year.
Weights are expected to be back slightly on last years record, but excellent per kg prices and feed should allow 18kg carcass weights to be achieved, reports Economic Service managers.
Early season drafts are returning about $160/hd which is an excellent return and will reinforce last years good profits in a revitalised sheep sector.
Early store lamb prices have been achieved in the $3.50 / $3.60/kg price range and store lambs at Fielding opened at $113 average per head.
Lamb Crop +7.0%
The number of lambs tailed in the spring of 2011 was up 7.0 per cent on the previous spring (+1.72 million) to 26.51 million head. Even then, this will be the second smallest lamb crop in at least 55 years. A return to normal weather conditions during peak lambing (despite a brief snow event in mid August) was the main reason for this increase in lamb numberscompared with the previous year.

Lambing percentage 119.3%
The ewe lambing percentage for the spring of 2011 was 119.3 per cent, up 9.7 percentage points from the previous season's low of 109.6 per cent. Scanning results earlier in the season were variable overall indicating that lambing would potentially be back on last year. However, mild weather in most regions at lambing allowed good survival rates this spring.

Ewes to ram -2.5%
Ewes lambing this spring on hand at 1 July 2011 were down 2.5 per cent on last year to 21.25 million. North Island ewe numbers were down 3.0 per cent and South Island ewe numbers were down 2.0 per cent.

Hogget lambing +28.3%
Lambs from hoggets totalled 1.16 million and were up 28.3 per cent on last spring. Low stocking rates and good feed supplies along with strong prices has encouraged the increase.