Fonterra raises 2012 payout forecast range by 20 cents; Holds estimated fair value share price for 2013 season at NZ$4.52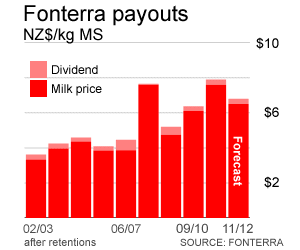 Fonterra has increased its forecast payout to its dairy farmer owners by 20 cents per kilogram of milk solids for the 2012 season citing a "modest recovery" in global dairy commodity prices over the last couple of months.
The co-operative says the increase takes the 2012 season forecast to NZ$6.90-NZ$7.00 for a fully shared up farmer, 20 cents higher than the previous forecast. This comprises a Fonterra farmgate milk price of NZ$6.50 per kilogram of milksolids, up from NZ$6.30, and an unchanged distributable profit forecast range of 40-50 cents per share.
Meanwhile, Fonterra also said its estimated fair value share price for the 2012/13 is NZ$4.52 per share, the same as the current season's price.
See Fonterra's statement below:
Fonterra raises 2012 payout forecast range by 20 cents

Estimated Fair Value Share price for 2013 Season remains at $4.52

Fonterra announced today an increased payout forecast range for the 2012 Season of $6.90-$7.00 for a fully shared up farmer, up 20 cents on the previous forecast. The revised forecast comprises a Fonterra Farmgate Milk Price of $6.50 per kilogram of milksolids (kgMS), up from $6.30 kgMS, and an unchanged Distributable Profit forecast range of 40-50 cents per share.

Fonterra is required to consider its Farmgate Milk Price every quarter as a condition of the Dairy Industry Restructuring Act (DIRA).

FARMGATE MILK PRICE

Fonterra Chairman Sir Henry van der Heyden said the new forecast reflected a modest recovery in global dairy commodity prices over the past two months.

Fonterra CEO Theo Spierings said prices had edged up in three of the last four fortnightly auctions on the online trading platform GlobalDairyTrade (GDT). The GDT-Trade Weighted Index was now 5.8 per cent above its recent low in early October. Mr Spierings said world dairy trade growth was being led by powders (combined whole milk and skim). This reflects strong demand especially in emerging markets, including a number of ASEAN economies, as well as Brazil, Mexico and China.

While foreign exchange volatility remains, the impact on the Fonterra Farmgate Milk Price becomes less further into the season as the proportion of foreign exchange hedging increases.

FONTERRA SHARE VALUATION

Fonterra also announced the Estimated Fair Value Share Price for the next season in 2012/13 is $4.52 per share, which is the same as the current season's price. The Independent Valuer, Grant Samuel, has estimated a Restricted Market Value range for Fonterra shares with a mid-point of $4.26 per share as at 1 June 2012, the start date of the 2013 Season.

The estimate is 2 per cent, or 8 cents per share, higher than the valuation for the current 2012 Season. As the mid-point of the Valuer's estimated range remains below the current Base Price of $4.52 that applies during the transition to a Restricted Market Value, the Fonterra Board has determined that the estimate for the Co-operative share price for the 2013 Season will remain at $4.52 per share.

The final share price for the 2013 Season will be determined in late May 2012 after the Board receives a final valuation from the Valuer. Sir Henry said the valuation increase per share primarily reflected the impact of retentions in further reducing Fonterra's overall debt levels:

"This is in line with the Board's strategy to maintain a strong balance sheet during these volatile and uncertain times. It also positions the Co-op well going forward, as we invest to grow future farmer returns."

Sir Henry noted the valuation had been adversely affected by exchange rate movements since the previous valuation in May 2011. In particular, a higher New Zealand dollar against many overseas currencies was eroding expected valuation gains for Fonterra's businesses and investments in Asia and South America.

"If exchange rates had stayed around May 2011 levels, the Restricted Market Value could well have been close to the $4.52 Base Price. Even after this exchange rate impact, we have recorded a modest increase in share valuation. This compares favourably with share price declines averaging up to 10 per cent or more since May on NZX and world equity markets."

Sir Henry said the Valuer stressed that the Restricted Market Value was not an estimate of where Fonterra shares will trade immediately after Trading Among Farmers commences. Rather, it reflected the Valuer's view on the likely long-run average discount to Fair Value. The Valuer also noted that in practice the discount would swing depending on dairy industry and equity market conditions.

"As well as taking into account the views of the Valuer, the Board will seek expert advice on the price that shares are likely to trade at before making a decision on TAF implementation," Sir Henry added.