Open Country Dairy shakes up supplier payment schedule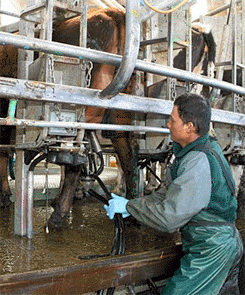 In a surprise move certain to stir some in the dairy sector,  Open Country Cheese has announced changes to the payment system  that speeds up payments and greatly improves cash flow of suppliers .
In a financial climate where cash flow is king this will be most welcome and  reduce interest payments and demands of nervous bankers for those with substantial debt.
The demands of driving production in costs are substantial, as southern farmers are experiencing at present, and this more regular payment system will be attractive as feed and fertiliser costs often occur at low cash flow times.
Now all in the industry will await with interest to watch how this competitive action will ignite the opposition as they react to protect any loss of market share.
NZ's second biggest dairy company is breaking tradition in the $12billion industry by paying its farmers more regularly for their milk during the year – a move sure to get some Fonterra farmers agitating for the same treatment. Open Country Dairy said that as a result of the payment change it gave its 500 suppliers a surprise $40 million payment at Christmas and will be paying them again before the end of May for milk received from November last year. This is on top of normal advance rate payments. The company plans to pay suppliers quarterly in time reports The Waikato Times.

Open Country Dairy chairman Laurie Margrain said the "traditional norm" has seen milk supplied at the season's start (June 1) finally being fully paid for in October of the following year. He said this system had negative effects, including farmers having no certainty over revenue streams, significant reliance on overdrafts and an over-reliance on lenders, higher borrowing costs and a knock-on impact for rural sector contractors and service providers.

Open Country, a private exporter that started up in 2004 and has processing plants in the Waikato, Southland and Whanganui, has enticed suppliers away from Fonterra by not requiring them to buy shares to supply milk as Fonterra does.Margrain agrees the company hopes to lure more from its rival with the new payment system. He said the challenge had been to avoid a situation whereby "overly optimistic" payments were made to farmers, only for international commodity prices to fall later in the season with draconian payout clawbacks required as the season went on.

More regular payments during the season required the recognition that milk has different values throughout the year driven by market prices and currency rates. "This has always been the case; however, the industry is accustomed to calculating an average for the 12-month season only. The variations in value are smoothed out in a one-off value for the year."

Waikato Federated Farmers president James Houghton, a Fonterra supplier, dismissed a Fonterra source's claim that Open Country had been forced to improve its payment system by disgruntled suppliers. "Open Country farmers I talk to are very happy with the company, the service it provides; and many farmers have cashed in their Fonterra shares [switching to OCD] to buy more farms. "Open Country demonstrates a flexibility in its payment structure and a willingness to negotiate over individual circumstances. It will negotiate over things like where a farm is located, how much milk a farmer will supply over the years and there are premiums for larger suppliers."