Beef & Lamb NZ mid season update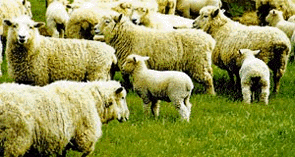 The meat and wool update from Beef and Lamb NZ contains few surprises but the writer feels that the second half of this season maybe much less profitable for farmers than the first.
The currency is biting hard on farm gate returns with record high values against the Euro and now the US currency eroding good beef prospects. This coupled with a worsening European financial situation that has dampened demand, will pressure our sheep meat and wool products that dominate in those markets.
One processor has dubbed this situation as "the perfect storm" and with processing rates in the north slow to build because of feed conditions, they are certain to try and claw back the less profitable months they had to endure.
The worrying figure for the sheep sector is the continuing fall of it's numbers as this industry fails to restrain the dairy swing in land use changes. It has been 10 years since good profits have been earned in the sheep and beef sector and many will now be able to reduce debt and minimise future risks in any downturn.
B+LNZ Economic Service Director Rob Davison says the mid-season update contains few surprises. "Statistics NZ's provisional livestock result, released in December, showed sheep numbers were down 4.3 per cent – a stronger decrease than the 2.1 per cent previously estimated. We have revised the export lamb slaughter on this basis. With fewer ewes, it's down 4.1 per cent from earlier estimates, to 19.7 million. The global lamb supply continues to remain tight overall."

This summer has been excellent for pasture growth around most of the country, reflected in high seasonal weights for lamb and beef, says Mr Davison. "Rarely do we see such good pastoral conditions and international prices at the same time." Lamb prices for the season are expected to average $115 per head, slightly down (-2.2%) on 2010-11's record high.  This season, expectations are for offshore prices to remain at good levels, though the estimated stronger NZ dollar against the Euro (+7.1%e) and British pound (+3.2%e) softens the price outlook at home. The recent strengthening of the NZ dollar against the US dollar is also a concern.

Mr Davison says global mutton supplies remain tight. Australia is expected to ship 4 per cent more than last year (+3,300 tonnes) while NZ supplies are estimated to fall 30 per cent (-31,800 tonnes).

The outlook for beef production is a lift in exports of 4.5 per cent, with the cattle slaughter up 1.7 per cent and heavier weights (+2.8%). The heavier weights reflect the excellent pastoral conditions so far, expected to continue into the autumn.North American price prospects are underwritten by the US cattle herd falling 2 per cent to 90.8 million, its lowest level since 1952. With slow economic growth, the US hamburger boom continues. This is positive for the 50 per cent of NZ beef exported to North America. Overall, the outlook is for farm gate export beef prices to remain similar to last year. However, there is concern about the current strengthening trend of the Kiwi against the Greenback.

Shorn wool production falls in line with decreased sheep numbers but this is offset by good pastoral conditions. An expected increased clip per head will leave wool production down 2.1 per cent on last year. Average wool auction prices for the season are expected to be similar to last year.

Mr Davison says the country's "average" sheep and beef farm profit before tax reflects the positive price outlook for meat and wool relative to recent years. "Profit for 2011-12 is estimated at $133,800 per farm, up 17 per cent on last year. In inflation-adjusted terms this will be the highest profit since 2001-02, which in today's money terms was higher, at $156,200 per farm.

Mr Davison says the current La Nina summer is expected to deliver wetter conditions to eastern Northland, coastal Bay of Plenty and Gisborne, while it could become drier in the south and southwest of the South Island.