BusinessDesk: Fonterra flags $100M spend on two more Chinese dairy farms in push for farm hub with 15,000 cows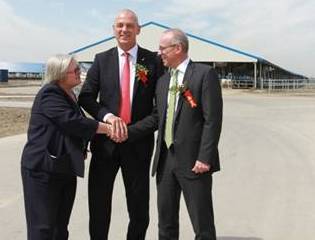 By Paul McBeth
Fonterra Cooperative Group plans to spend $100 million to build two more farms in China's Hebei Province as part of a plan to construct farming hubs to service the world's most populous nation.
Chief executive Theo Spierings said the dairy exporter wanted to set up an integrated milk business in China as it seeks to tap into the growing middle class demand for high protein food.
Speaking at the official opening of Fonterra's second farm in China's Yutian County, Spierings said the extra two farms will create the first hub in the country with a herd size of some 15,000 milking cows producing 150 million litres a year.
The announcement coincided with the appointment of Craigs Investment Partners as market-makers for the forthcoming tradeable Fonterra units under the contentious Trading Among Farmers inititiative.
"Our intention is to develop separate farming hubs across China, with the ultimate goal of producing up to one billion litres of high quality milk every year by 2020," Spierings said.
That indicates Fonterra wants to have about 33 farms with a herd of some 100,000 cows in China by 2020. Its plans coincide with attempts by Chinese investors to buy farmland for dairy production in New Zealand, the latest of which which has been caught up in legal challenges to the overseas investment regulations.
Last year, Fonterra signalled its intention to build a farming hub in the Hebei Province when it said it would spend US$40 million on a third farm in the region. Its original pilot project, which demonstrated it could produce high quality milk in China, was launched in 2007.
The dairy exporter is seeking to attract external investment to pay for its global aspirations with its controversial Trading Among Farmers project – a scheme that would enable farmers to sell the dividend rights of their shares into a fund, which would then become available for investors to purchase as units in a secondary market.
Craigs get TAF gig
In a separate statement, Fonterra announced it has appointed Craigs Investment Partners as the registered volume provider for the shareholders' market, where farmer owners can buy and sell their shares among themselves.
Chief financial officer Jonathan Mason said Craigs' role "will be a market maker in the Fonterra Shareholders' Market, where farmer shareholders will be able to buy and sell among themselves" and "include responsibility for creating a transparent market, and ensuring there are sufficient buy and sell orders aimed at creating market depth so that prices don't fluctuate unduly."
Deutsche Bank/Craigs, UBS and Goldman Sachs were also appointed joint lead managers on Trading Among Farmers, and will assist and advise on launching the Shareholders' Fund.