Tough times forecast for dairy sector next season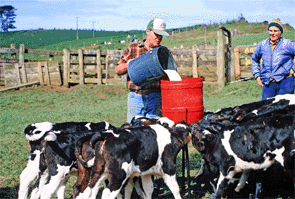 With the overnight auction lowering dairy prices even further this look into next years projected payout is opportune.
The message after the low prices a few years ago was to get the dairy debt under control and the last 3 years there have been plenty of opportunities to do so.
But has this in reality happened and will a $5+ payout next year put pressure on recent conversions and those with still too much debt?
Costs of production have also risen and many are driving extra amouts of milk with expensive feed inputs.
Will this be feasible when the payout is in the $5 range?
One rise and nine falls in price for powder prices at auction and all Oceania dairy commodities at yearly lows will make any new dairy farmer nervous especially those with debt.
An ugly "reality check" looms for the dairy sector next season if Fonterra payouts are undermined by increasing global production, raising the prospect of indebted dairy farmers struggling to break even.

While hundreds of millions of dairying dollars flow annually into the economy and have provided a recessionary buffer, agricultural debt has ballooned to $47.6 billion, of which 64%, or $30.4 billion, is owed by the dairy sector reports The Otago Daily Times.

Already, falling dairy commodity prices are raising concerns, compounded by the New Zealand dollar's strength, but looming is the certainty of competition from rising global supply. National Bank chief economist Cameron Bagrie, in Dunedin and Timaru yesterday for broker briefings, said while Fonterra's current forecast payout of $6.30 plus dividends this year was not threatened, "the 2012-13 season would deliver a reality check". He estimated that as long as the dairy sector stabilised and rebounded during 2012-13, a payout of $5.75 a kilogram of milk solids was feasible next season.

However, with global production from competitors rising 8%, he believed the payout could be forced down to $5.50. While debt-free dairy farmers could sustain the lower price, there were larger numbers of debt-laden farmers facing lean times. BNZ economist Doug Steel was more conservative than Mr Bagrie but moved his estimate down for 2012-13. He forecast a $5.80 payout but noted there was a "sense" of more negative risk than upsides at present.

While Mr Steel said production this season was likely to be 10% up on last season's, contributing about $500 million, he noted a 10% drop in international dairy prices at the last global online auction. A "significant" part of an expected $3 billion decline in overall goods exports next year was attributed to food exports and "it could well be more". "At the farm level, this equates to such things as a lower dairy payout and lower lamb and wool prices," Mr Steel said in his monthly "rural wrap" yesterday.

At a $5.50 payout, the indebted dairy farmers "could have their backs forced to the wall"once production costs, capital expenditure, interest payments and depreciation were accounted for. Mr Bagrie agreed with other analysts that the estimated "break-even" payout was about $5-$5.10, but whether that applied to all dairy farmers was dependent on their respective costs structures and debt levels.