Fed Farmers' Bruce Wills is a levy paying farmer deeply encouraged that Beef+Lamb is working so effectively with McDonald's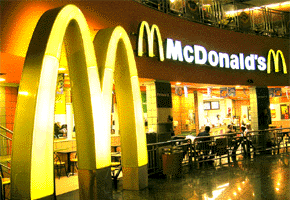 By Bruce Wills
There is a hashtag of Twitter, which pretty much says it all  - #mikemoorevisionary.
Almost 30 years ago, this former Trade Minister, Prime Minister, Secretary-General of the WTO and now, our man in Washington, suggested lamb burgers would save the meat industry.
At the time, he suggested just a slither of the US hamburger market converted to lamb instead, would do the trick.
He was not half wrong because Americans consume some 150 million tonnes of hamburgers each year. Based on current lamb production here, even a quarter of one percent of that vast market, would see us fall some 100,000 tonnes short.
It is no exaggeration to say McDonald's latest innovation is a big one for New Zealand's sheep farmers.
Lamb is appearing on its Australasian menu for the first time ever and while lamb will make a fleeting 12-week appearance over the Tasman, here, it is a permanent thing.
To be fair, McDonald's is not the first chain to try lamb; its nemesis Burger King did so in the UK 'for a limited time' earlier in the year while Wendy's locally, I believe, has offered lamb for 'a limited time.'
In being offered permanently here, McDonald's 'Serious Lamb' burger and its 'Lamb Snack Wrap,' are the real deal for farmers.
As a sheep and beef farmer, my business benefits from the positive impact McDonald's involvement with AngusPure has had.
There is a price increment for every animal I draft for McDonald's and since August 2009, McDonald's has not only purchased some two million kilograms of AngusPure, it has greatly raised the profile of Angus beef.
McDonald's is also a major consumer of New Zealand export beef as New Zealand makes up part of its worldwide supply chain.
We all know sheep numbers have nosedived since Mike Moore was Trade Minister and the latest schedules don't make for good reading.
So to prosper we need to do things differently and McDonald's involvement is just that.
Federated Farmers kicked off T150 campaign in 2008 to set a sustainable price for lamb at the farm-gate and to stimulate industry thought. Last year's Red Meat Strategy brought the industry and processors together further underscoring the need for new thinking.
Business 'unusual' is the way ahead for not just lamb but for wool too.
It is about positively shaking consumer perception so they look at what we produce in a whole new light.
Take CavalierBremworth's new technology which replaces jute backing on new carpets, with a backing made from recycled wool carpets. This again brings the whole-life efficiency of natural wool fibres to the fore by recycling old carpets to back new ones. Instead of landfill carpets are being reused.
It is a world-first breakthrough subject to patents but indicates there is plenty of innovation kicking around at the processor level.
It also differentiates New Zealand made carpets too.
Like CavalierBremworth's breakthrough, McDonald's 'Serious Lamb Burger' and the 'Lamb Snack Wrap' are the product of two years development and testing.
It is deeply encouraging for levy paying farmers to see the marketing arm of Beef+Lamb working so closely with McDonald's.
It is equally encouraging to see competing meat processors, Silver Fern Farms, ANZCO and AFFCO, all supplying lamb to McDonald's; meat patty production being centred on ANZCO's Waitara plant.
McDonald's forecasts it will need a lot of lamb each week and while I know the number, I'd break confidence by sharing it. Trust me, it is a good start.
The Lamb patties will come from export-quality shoulder cuts helping to turn on a new generation to lamb.
For the cynics who seem to despise everything, I have been told the burger stacks up to that from gourmet outlets and is priced accordingly. Yet this joined up high-quality approach is what the Red Meat Strategy envisaged.
It is also a 'think forward' approach about adding value to a major primary export.
Those cynics may ask how and it will surprise some to learn McDonald's NZ is an exporter of New Zealand cheese and pre-mixed dairy into other restaurants within Asia-Pacific.
Lamb offers McDonald's NZ something new especially into countries that have a taste for this type of meat.
In this respect Mike Moore had the right idea but perhaps the wrong countries; instead of 'go west young farmers', 'look east instead'.
McDonald's India tried lamb for a short while when it entered the market there but struggled making the meat bind but McDonald's NZ has cracked it.
We could now have something very big.
We are not pretending McDonald's is a cure-all but it is a tremendously positive start reflecting Mike Moore's world-view of lamb's potential.
Come Monday, I'll try my first and if the reviews out of our Wellington office are any guide to go buy, I'll love it.
Meanwhile if you are in the market for a new carpet, think wool.
-------------------------------------------------------------
Bruce Wills is the President of Federated Farmers. You can contact him here »