Bruce Wills says being left naked is no fun and is frustrated wireless broadband is coming so slowly for farmers - who would innovate with it. Your view?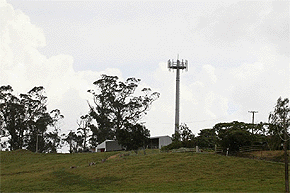 By Bruce Wills
I was left naked this week.
No I have not suddenly joined some farmers' naturist club but I am talking about my mobile phone.
In my rush to get to Wellington I was half way to the airport when I had a dread thought, felt my suit jacket then realised, I had left it on my desk at home. There was no time to turn around so for the past few days I have returned to an era before mobile telephony.
It is only when you go off the grid that you realise just how dependent we have all become on that little marvel of technology.
In my lifetime I have seen the stuff of Maxwell Smart and Star Tre become much better than that envisaged by science fiction.
Ironically, we seem to be returning to thin bricks these days, given 3G and soon 4G phones, will seek to maximise screen size for entertainment and the web experience. 
Of course, I would have just liked to have a phone but since I was hundreds of kilometres from my SIM card that had to wait. It made me think that the old CDMA network may have had some redeeming features after all. Of course there will be messages, indignant ones at that, so if I didn't get back to you, sorry!
Wireless telephony and data is perhaps the answer to getting rural broadband out to where we need it most; in our tractors and in the field.
The brave new world of wired rural broadband is coming but is seemingly costly and far from rapid. In 2017 we may, if we are very lucky, be where Wellington was in 2010.
Just as our rural councils demand a fairer share of Road User Charges, given rural contributes over 50 percent but gets only about 30 percent back, broadband needs to start where economic activity starts.
I understand it will cost a rural school something like $300 each month just to connect to rural broadband. How many single teacher rural schools can afford close to $4,000 per annum for this?  It also seems disproportionately higher than what urban schools will be paying.
Broadband is not just for us farmers but our local companies, communities and schools. Our children and our families deserve equality but if we want serious economic development that is distributed rather than just concentrated in a few select urban pockets, we need to unleash our full rural inventiveness.
The current 'solutions' seem far from ideal when the likes of Jeanette Maxwell, Federated Farmers' meat and fibre chair, can almost see a cabinet but cannot connect to it. Her farm falls in the proverbial no-man's land comprising a satellite 'shadow' created by Mt Hutt and weak mobile 3G, even with a yagi antennae. She has broadband of sorts on copper but it is not rapid or reliable.
With the move to e-filing and e-government along with the National Animal Identification and Tracing Scheme, Jeanette isn't alone being technologically frustrated.
While my phone sits at my farm, the new features we have don't quite make up for patchy 2G technology that is voice.
Dropped calls waste time and cost us money, but there is no slack cut for us in rural areas. There are holes in cellphone coverage something I know from driving around the Hawke's Bay. If we can't get 2G reliably then it doesn't bode well for 3G or even 4G.
To us, rural broadband ought to be about breaking down barriers because the web makes the world smaller.  It is also about productivity and new tools for us to become better farmers.
Frankly we have no conception of where things could head.
Somewhere, someone will be creating an application or program that will have that Eureka factor. It would be great to think it is a kiwi.
While fixed line broadband is great and will be welcome, the reality is that wide area wireless coverage is better as it delivers coverage in the field.
Another thing that strikes me is how close we are to going cashless. Aside from EFT-POS there is a big trend emerging towards stored value cards or cashless wallets.
A big issue facing many smaller rural centres is the loss of banking services and after the banks have left, even remote ATM machines are now coming under threat. 
One potential solution for our rural communities is to move quickly in adopting cashless wallets. Indeed it may be driven by simple expediency with the loss of banks and cash machines but that comes back to having the internet; wired or wireless. The internet is the enabler.
I honestly never thought that leaving my phone would get me thinking so hard about where we are and where we could go.
We talk much about being a world leader on many things, so how about starting with technology coming out from our farms, orchards, forests and trawlers.
-------------------------------------------------------------
Bruce Wills is the President of Federated Farmers. You can contact him here »