A fall in profits coming for sheep farms, says Beef+Lamb NZ; but some regions have 'best August ever'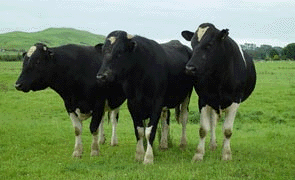 BEEF
More lifts in beef schedules even against a strong US exchange rate will give beef farmers optimism that is shared in the new season outlook report.
Beef and Lamb predict (at an 80c US currency) prices of 417c per kg for bulls and 425c per kg for heifers and steers.
With many areas experiencing an earlier than normal spring, the grass market has started to influence some of the saleyard store sales.
DAIRY
The volatility of spring has returned with a mix of sunny settled days to wind, rain, hail and even snow.
Deep south farmers are reveling in pasture growth from the "best August ever" but many other areas have had too much moisture and poor utilization has limited production potential.
Calving is now well through and more terminal sire calves are now being seen at the saleyards attracting good demand.
Environmental checks continue and effluent consent conditions seem to be the largest area of non compliance, but the tactic of education and close monitoring of problem farms is reducing incidence rates.
Two other issues that will not go away is the addition of permeate in milk by Fonterra and the hairy cow compensation case with dairy genetics company Livestock Improvement.
LAMB
Small lifts were again seen for lamb schedules but present prices are of little help to those farmers and works store lamb buyers who purchased last January and are now selling for no profit.
Beef+Lamb's Economic Service released its new season outlook and predicted large falls in income for sheep farmers driven by a currency that is at its highest level since it was floated, and the European recession.
More sheep are being retained and a better lambing percentage will help nullify some of the price falls, but sheep and beef farms profits overall are expected to fall by 34% this coming year.
At a mid US currency rate of 80c, a 18.3 kg CWT lamb is predicted to return farmers $95 a head and an average mutton carcass falls to $76 at that exchange rate.
Mutton schedule prices continue to languish at the yearly low, and local trade lamb prices have not moved for 12 weeks in the north and 6 in the south.
A growing number of ewes and lambs all counted are being sold at levels reflective of the new  weak market conditions, and shows that this years buyers of store lambs will be very cautious after last year.
WOOL
The South Island wool auction saw strong crossbred wool indicators firm slightly and mid micron and finer wools steady, or slightly weaker.
The first of this seasons merino wools were traded at this auction and while these farmers believe their strong brand has insulated them from the falls crossbred wools have suffered, the indicator was back 670c clean from the same sale last year.
Predictions from Beef+Lamb's new season outlook shows that stronger cross bred wools could be back 27% this year and they suggest a budgeted figure should be 313c greasy for this type of wool.
Wool Equities announced a significant loss arising from the costs of its failed bid to convince farmers to help fund the purchase of Wool Services International.
DEER
Venison schedules are moving closer to the $8 mark as chilled product demand builds, and the sea freight deadline of end of October nears for the Christmas demand.
Velvet purchasers are positive for the new season and Provelco has announced a supply agreement that offers $100 per kg for a mix of SAT, AS and BS sticks to reinforce that optimism.