Weekly Livestock report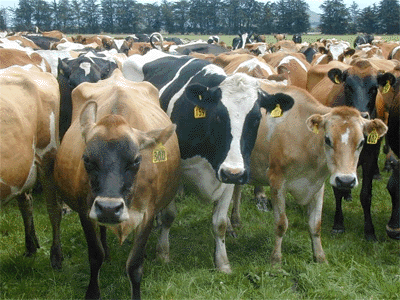 DAIRY
Many areas are still waiting for heat to really drive spring growth as the variability of spring continues, although doubts remain as to an El Nino season eventuating. Most areas are not lacking in moisture and feed growth will be spectacular with warmth. The strong start to the production season continues with reports that milk flows are ahead of last year and this will be needed as farmers battle the scourge of increasing costs. Some irrigation in Eastern areas and all farmers are fine tuning rotation lengths in an attempt to fully utilize the spring flush.
Heifer mating is starting and bulls are being blood tested to ensure the healthy herd status is not challenged. After the debacle of the 'hairy gene' farmers will be careful in their selection of AI sires as they look to grow their herds genetically. The numbers of bobby calves offered at saleyards is declining but demand for this stock remains strong for which beef farmers are grateful.
Rumblings continue to be heard from Fonterra shareholders over leadership issues and the low payout and candidates for vacant board positions are starting the lobbying associated with such elections.
Westland Milk Products announced plans to build a 3 dryer plant in Canterbury as competition for the extra milk grows, but their 2011/12 financial result of $6.14 before retentions is a disapointment for many shareholders who yearn for the payouts of the past where Fonterra were in their wake.
The latest globaltrade auction values eased back from recent lifts, but the EU farm gate milk prices are predicted to improve by early 2013 as supply issues drive demand.
LAMB
Sheep farmers are being prepared for the poor financial results of last year with Alliances suppliers being told to expect a loss and no dividend will be paid. They have tried to soften the blow by offering early loyalty deposits for farmers that commit 100% to supply but this system has been tried before by other processors with only average success.
The very early lambs are now being processed for the Christmas chilled business but most concern is reducing the stocks of frozen product before the bulk of new product arrives. The fall in lamb prices has caused pressure on mutton schedules and levels fell further this week on the back of an increase in Australian exports.
Price corrections for wool, pelts and casings have further reduced the value of farmer returns and it appears little relief looks likely from any downward fall in the currency.
WOOL
Good volumes of mainly second shear wools were traded at the north island auction that saw a 85% clearance with prices described as steady. Buyers once again are only purchasing to orders and tight shipping schedules often drive demand in this uncertain economic climate.
The news that supplies cooperatives Farmlands and CRT are in discussions on merger proposals will be welcomed by farmers as cost increases need to be minimized especially in these times of low product prices
BEEF
More caution by US markets has seen schedules remain flat and listless at this traditionally weak annual price period, but optimism remains that short supply will drive prices by the end of the year and start of 2013.
Spring store cattle sales have been well supported nationally although future summer feed grown will determine just how good these purchases are. With Alliance keeping and reinvesting in it's Mataura beef plant and SFF's new Te Aroha upgrade ready for the new season, processors are also optimistic for a rosy future in beef.
DEER
This years spring price rises have been more subdued than in the past and the kill is rapidly closing in on shipping deadlines for Christmas delivery. Sales of frozen venison stocks are reported to be on track for this time of year and Asian interest in byproducts is steady, but returns are being eroded by the weak US dollar.
Early animals are now being harvested for velvet and now being sent to grading centres or being sold on farm and reports suggest the harvest is ahead of last year and has the potential to grow more regrowth product.