Bruce Wills still thinks the Horizons One Plan could create 'Farmergeddon' and calls for a more considered balance. Your view?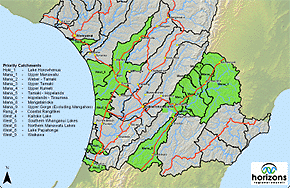 By Bruce Wills
This week we have witnessed history.
The first black man elected President of the United States in 2008, has become the first black man re-elected President of the United States in 2012.
The last four years also shows how the way we communicate has radically changed.
In 2008, Twitter registered 100 million tweets a quarter but last year, 140 million tweets each day were being issued.
In the U.S. elections, Twitter was seemingly quicker to the punch than traditional media.
So impressed am I with Twitter, that I have this week taken a leaf from Beef+Lamb Chair, Mike Petersen and jumped into the 'Twitterverse.' With the highly imaginative user name of @FedsPres, I am a new born lamb to this, so please, be gentle.
Hopefully, I won't make a gaffe like that made by Georgian teenager, Kristen Neel. After confirmation President Obama had won four more years, this 18-year-old tweeted, "I'm moving to Australia, because their president is a Christian and actually supports what he says". Either you laugh or her parents ought to ask for their school fees back.
That was not the only thing to catch my interest in an historic week. In fact, four headlines managed to criss-cross each other in surprising ways.
The week readers of the Christchurch Press were told that "Canterbury water quality poses risks". Meanwhile, on the very same day, the Dominion Post ran with "Lake Taupo too clean for trout, anglers say". Yesterday, a reader of the Manawatu Standard could have read, "One Plan raises concerns for minister" on the front page, driven to Wellington, picked up a Dominion Post and read, "Wilkinson shuns farm runoff control appeal".
We have heard economist Gareth Morgan using robust language to question why farmers appealed the Horizon's One Plan. I don't wish to spark another argument with him, but suffice to say, it is not just farmers involved but our horticultural colleagues too.
Perhaps the best answer can be found on the front page of Tuesday's Manawatu Standard; "One Plan may ruin farmers – critics".
Having seen memos obtained under the Official Information Act, it seems the Ministry for Primary Industries (MPI) commissioned Landcare Research to have a much closer look at the One Plan's implications.
And what Landcare found is sobering.
The regional council had assumed farm costs would rise by less than 5 percent to an upper limit of 16.6 percent 'for some'.
Landcare Research found the impact on individual farm profitability will be between 22 and 43 percent depending on the policy chosen.
Is it no wonder some of our staff christened this "Farmergeddon?"
Imagine, for a moment, if a checkout operator was told they had to forego a quarter to one half of their post-tax income. It doesn't bare thinking about.
What concerns me is that a senior member of our policy staff has informed me these Landcare numbers could be at the optimistic end of the scale.
It seems the options to meet One Plan is to convert from dairy to sheep and beef or replace crops with Pinus Radiata. These memos, jointly written by MPI staff and the Ministry for the Environment, repeat one expression over and over.
One Plan in its present incarnation will mean "significant" social and economic change. I believe in the need for balance. We don't wish to go back to the 1960's, where the environment was seen as something to be used.
Nor should we view the environment as untouchable either. It is striking a balance between the two, something I am committed to, as is Federated Farmers.
Balance is not the One Plan in its current form because it will stifle agriculture. As our chief executive, Conor English, commented on the impacts in the Manawatu Standard, "They are very different from what has been thrown around in the past ... It would be hard for anyone to accept those sorts of profit losses, in any industry".
Perhaps the most damning assessment came from Local Government Minister, David Carter. You see section 32 of the Resource Management Act (RMA) requires 'adequate cost-benefit analysis of a proposed plan'.
Yet he told the Manawatu Standard what he had seen for the One Plan was "a woeful analysis". This matters because we are dealing with whole communities and people's lives.
A point rammed home in the latest unemployment statistics just this week.
The clear warning is that should the One Plan come to pass in its current guise and Landcare Research's analysis proved right, whole communities will be uprooted.
While someone will eventually buy a 'low nitrogen farm', their output will be constrained and like dominos, this will cascade with reduced demand for skilled trades and support services.
That means less demand for the professions, too. This changes everything and not for the better.
Who will generate the money needed to enhance the environment?
Exactly.
-------------------------------------------------------------
Bruce Wills is the President of Federated Farmers. You can contact him here »