It has been a tough year for many in the wine industry. Richard Longman looks at the warning signs and reviews how you should respond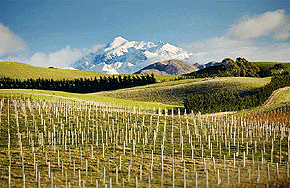 By Richard Longman*

Last year's Strategic Review of the New Zealand wine industry acknowledged that there were a number of wine companies and growers that were finding the trading conditions extremely tough.
Some growers and wineries have been unable to endure the significant change that has occurred in the industry and the wider global environment over the last four years.
A number of those that had an inability to meet their obligations ended up having either formal or informal insolvency action taken against them.
There have been a number of receiverships, liquidations and creditors' compromises.
Many others have been working with their capital providers, particularly their banks, to find ways of managing the situation they are in.
While the circumstances relating to the financial performance and solvency of each entity will vary there are some common factors that we have seen in growers and wine companies that are in distress.
We highlight below the reasons for the insolvencies in the industry and provide comment on things to consider should you be finding it difficult to meet your financial obligations.
The common traits of wine businesses that have faced financial distress include:
1. Too much debt, often as a result of acquisitions or developments of vineyards at high prices, or poor financial performance over one or more years
2. A lack of equity such that the business cannot withstand a significant shock or period(s) of poor performance
3. A lack of distinctive quality product or brands that have consumer recognition and support
4. Poor channels to market eg. a lack of quality distributor relationships, which for a wine business is critical
5. Poor cash flow management
6. A lack of quality, timely management financial information
7. Overly optimistic expectations of production, sales, prices and timeframes to achieve the forecast outcomes
8. A loss of confidence by the major stakeholders (particularly funders) in the business and management
9. A lack of scale or relatively high cost structures.
With growers the issues are often related to the extent of financial leverage, counterparty risk (losses caused by default of wine companies) and/or an inability to secure a reasonable contract for the grapes produced.
Key factors of success for wine businesses are brand, distribution and scale.
Those with high quality brands and distribution alone can be successful, without necessarily having scale, provided the returns on the wine support the cost structure associated with the lack of scale.
Financial leverage
Excessive financial leverage (debt) and undercapitalisation (lack of equity) is a key factor in insolvencies in the industry.
A large part of the growth in the industry during the 2000s was funded by debt on the back of booming prices for viticultural land and vineyards.
There has been a significant correction in the value of vineyard land as discussed previously. As a result, lending became well outside the bounds of normal banking measures, although falling asset values have not of themselves been a driver for the banks to take action against defaulting clients.
Our experience has been that financial institutions have generally worked hard to support their clients through the down turn in the industry post 2008.
Particular challenges have arisen when clients have sought additional funding lines to support trading operations and (when viewed objectively) there have been limited prospects of the borrower's ability to repay the additional facilities.
In such cases credit committees have, understandably, not wanted to place new borrowing at significant risk to support defaulting existing lending.
That is not to say that funding has not been available to cover additional trading needs. Where there has been confidence in the projections prepared we have seen further facilities provided or greater accommodation within existing facilities. However, failure to deliver against those projections may trigger significant concern from the lender.
We have come across many situations where the borrower has incurred more than one year of losses and has low or no equity in the business and wishes the bank to provide further debt to carry the business through until the cycle recovers.
In effect the bank is being asked to take significant equity risk, not debt risk and further, the bank's and other creditors' position may already have deteriorated significantly relative to other stakeholders.
In the absence of an injection of new capital, an entity producing losses can only fund those losses through a deterioration in the position of either the existing shareholders or the creditors. In such circumstances, ideally new equity capital would be able to be injected into the business but in recent years it has been a challenge to find such capital.
Warning signs
So what are the early warning signs and what should you do to protect your wine business from the challenges of financial distress?
• High levels of debt relative to realistic asset values (current market values) and/or high interest expense relative to earnings.
• A lack of a purchaser of your production at prices that are reasonable – if you are a grower, do you have a contract over your grapes that provides reasonable terms and is with a strong counter party? For wine companies, do you have distribution relationships and customers that will purchase your wine on reasonable terms and pay for it on time?
• No or poor quality financial forecasts or continual underperformance against forecasts – this results in poor decisions being made as management don't fully understand the impacts of their decisions and stakeholders losing confidence meaning they are less likely to stand behind the business if further support is needed.
• Do you have long-term arrangements for the sale/ supply of your grapes or are you heavily reliant on short-term arrangements? For a winery, longer term arrangements that are well matched to your supply needs should reduce the volatility in your business model.
• Are you struggling to meet your bank covenants or pay your creditors in accordance with their terms of trade?
• Is your working capital growing? How are you funding that growth and is it because of a difficulty in selling your inventory?
• Are you heavily exposed to one or a few debtors? What is their creditworthiness?
• Are you tracking the margins on your sales and what is happening to those margins?
What are we seeing?
• Renewed confidence to invest in land.
• Vineyard and viticultural land prices/ values are rising during the second half of 2012 driven by stronger expectations as to future grape prices and returns and increasing demand from wine companies to secure their production for future vintages. Some wine companies are actively acquiring more vineyards or bare land for landbanking for future viticultural use.
• Demand for and supply of bulk wine: the lower vintage has resulted in a significant tightening of supply of bulk wine which is anecdotally causing a shortage of wine (particularly Marlborough Sauvignon Blanc) for retailer private labels. This shortage should partially alleviate pressure on branded product pricing by major retailers which may not have the same volume of private label wine to compete with, although the relative power of the large retailers will remain extremely strong.
• Wineries seeking growth opportunities which will lead to further consolidation.
What should you do?
If you are facing financial pressure, we suggest that active management of your situation is the best way to respond. Proactive engagement with your bank is critical. We also suggest:
• Develop realistic forecasts for both profit and loss and cash flow, including a conservative downside scenario to test your ability to meet your obligations.
• Develop a strategy – assess your strengths, weaknesses, opportunities and threats and develop a plan that addresses these. In the case of wineries, do you have a differentiated position/offering with respect to your product, how it is distributed and the markets you sell into?
• Develop contingency plans in the event certain key assumptions don't eventuate.
• Seek professional advice and assistance, both financial and legal.
• Consider the opportunities to strengthen your financial position through obtaining a capital injection, or selling some non-core assets, clearing old stock (even at a loss if that provides a good cash flow benefit).
• Are there opportunities to collaborate with others to share costs or provide other benefits? Is a merger with another entity possible and attractive?
• Consider realisation of your business/ assets through a managed sale – what would the realistic outcome of that process be?
Particular issues in the wine industry
It is often only once a formal insolvency occurs that challenging and complex issues of priority between creditors occur.
We highlight below several of the issues that have arisen in wine industry receiverships or liquidations and comment on ways to seek to protect your interests against such issues.
Please note that these comments are of a general nature and we suggest you take legal advice to address these issues if they apply to you.
Winemaker's lien:
Winemakers who are owed money for the services directly related to the production of the wine (not other services unless they are inextricably linked) may be able to claim a lien over the wine that is still in their possession.
Liens are always case specific but they may be valid against a receiver or liquidator. However, the lien is not good to secure past obligations and once possession is lost, so is the lien.
Generally other liens are not valid (eg. in relation to storage charges) so if you are relying on possession of goods to secure your debtors we suggest you consult with your legal adviser.
Lack of registration of interests on the Personal Property Securities Register (PPSR):
We have experienced generally poor understanding and compliance with the Personal Property Securities Act by wine industry participants. This can be a complex area of the law in the case of dispute but if creditors register their interest on the PPSR within the appropriate timeframe (note this may be before advances or supplies are made) and obtain a written security interest then their interests should generally be protected.
If you have wine held at a third party premise including a winery, you should consider registration of your interest in that wine on the PPSR to avoid any potential difficulties in the event of an insolvency of that other party.
------------------------------------------
Richard Longman is a partner at PwC who recently released the report, New Zealand Wine Insights from which this article is extracted. You can contact him here ». You can see the full report here ».