Richard Longman reviews whether New Zealand wine is maintaining its competitive advantage in key export markets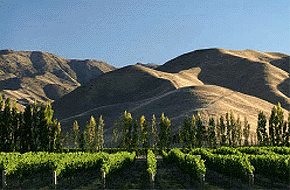 By Richard Longman*

In undertaking the Strategic Review last year we assessed the competitive advantages that New Zealand Wine Inc. has, and also how that competitive position was faring in the wake of the oversupply period of 2008 to 2011.
We considered whether NZ Wine Inc could compete as a low cost producer of wine and concluded that it could not (and is highly unlikely to ever be competitive on cost alone).
There are a number of reasons for this including the cool climate conditions that New Zealand experiences during the growing season and also a relatively high cost structure.
In relation to costs, there have been commendable efforts to reduce costs from the growing and wine processing aspects of the industry.
We encourage the industry to keep striving to extract costs, provided there is no detrimental impact on the quality of the grapes and wines produced or a reduction in the sustainability of the vineyards and wineries.
The Ministry for Primary Industries' Viticulture Monitoring Report for 2012 notes the success growers have had in reducing vineyard expenses, although it reports some of the expenditure savings were due to reduced fertiliser application and the deferment of repairs and maintenance.
As noted earlier, the overall outlook for vineyard returns in 2013 is considerably stronger than it has been for some time.
The competitive advantage of New Zealand wines lies in markets perceiving New Zealand wine to be of higher quality and more distinctive in style than competitors' wine, which translates through to higher prices for New Zealand wine.
As a result of this view we suggested New Zealand Winegrowers' primary role was to protect New Zealand wine's competitive advantage from weaknesses.
It is appropriate to assess how New Zealand wine's competitive advantage has fared over the last 12 months, and whether any of the previously identified potential weaknesses have elevated. Further information on the relative performance of New Zealand wine and its competitive advantage was published earlier this year by the Californian Wine Export Program. This chart shows the export prices achieved by major wine exporting countries on a per litre basis.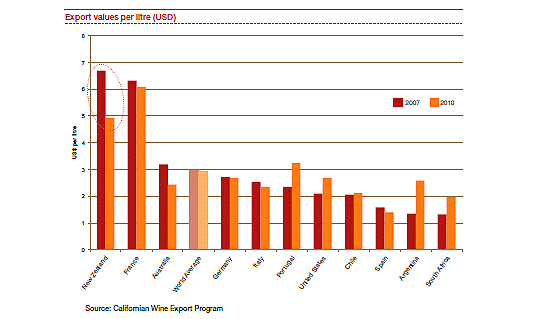 In 2007, when almost all wine was exported from New Zealand in packaged form, New Zealand wine led the world in terms of the average price per litre.
While that position fell by 2010, New Zealand was still second, more than US$2 per litre ahead of any other New World wine producing country.
However, also of note are the increases achieved by other New World countries, including strong rises by Argentina and South Africa, off low bases.
Turning now to the performance of New Zealand wine in its key markets we make the following observations.
Australia
Australia is New Zealand's largest export market by value. Nielson offpremise trade data shows the Australian market continues to grow in terms of total wine consumption: up 2.4% in the year to June 2012 on a value basis, although down 0.9% on a volume basis, driven by lower sales of cask wine (bottled wine volumes were up 2.8%).
New Zealand enjoys a very prominent position in Australia:
• 13.7% by value (and 8.73% by volume) of all wine sold in Australia is New Zealand wine
• By value New Zealand wine represents 73% of all Sauvignon Blanc, 35% of all Pinot Noir and 27% of all Pinot Gris sold off premise.
However, there are concerns that the industry needs to be wary of:
• the off-premise trade data shows the strongest growth in sub AU$15 per bottle. While there has been overall growth in the $15 and above range, there has been pressure on white wine sales in the AU$15 to AU$20 range
• the average value per litre has fallen by 4.8% in the year ended 30 June 2012
• the price per litre for our flagship Sauvignon Blanc was down 9.8% in the June quarter. Pinot Gris and Pinot Noir were also significantly down (14.9% and 9.6% respectively).
Anecdotal evidence suggests that some wine companies have been using the Australian market as a means of clearing wine stocks, enticed also by its wine equalisation (WET) rebate, which for many is the only return they get from that market.
The New Zealand wine industry needs to carefully consider how it treats its major market to ensure that it does not cause harm to New Zealand wine brand owners.
United Kingdom
The United Kingdom remains New Zealand wine's second largest market by value (and largest by volume). As already noted, bulk wine exports to the UK represent 46% of New Zealand wine exports to that market (although peaked at over 50%), the largest proportion of any market, and therefore have a dampening effect on the export values reported.
Due to the high New Zealand dollar and the dominant market power of UK retailers, achieving adequate or better returns from this market remains a challenge and a number of wine companies are actively reducing their exposure to the UK and diverting wine to other, higher yielding markets.
New Zealand wine remains in demand, notwithstanding that wine volumes in the UK have been falling in recent years due to market contraction (for example July 2012 off trade sale volumes were down 2.7% on July 2011 and 5.0% on July 2010 on a moving annual total basis).
However, total value rose 2% in the year ending July 2012 and increased 5% on a per bottle basis given the reduced volumes.
Neilson data of sales in the off trade show that Spain, Italy, and NZ have achieved gains in volume and value while other large producers fell.
Other points to note include:
• New Zealand has the highest average retail price per bottle at £6.32 up 3.6% on the previous year. Only Argentina (£5.44, up 6.9%), Australia (£5.09, up 6.3%), France (£5.72, up 6.1%) are above £5 per bottle average
• The leading varietal is Pinot Grigio, with Sauvignon Blanc second (8% market share by volume) NZ represents 49% of all Sauvignon Blanc sold in the UK by volume, but down 5% on 2011
• 84% of NZ wine sales via off trade are Sauvignon Blanc
• New Zealand red wine (all varietals) has a retail selling price 50% higher than its nearest competitor (£8.70, versus Argentina at £5.81).
United States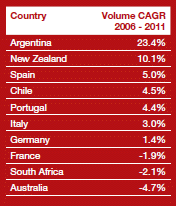 The chart below shows the import values per litre in USD for bottled wine imports over the period 2006 through to June 2012.
Observations in relation to this chart are:
• New Zealand's average bottled import price into the US remains higher than all competitors except France
• While it was previously narrowing, the import price gap between New Zealand and France has started to widen again since 2010
• New Zealand continues to grow faster than its competitors while sustaining these higher prices with the exception of Argentina.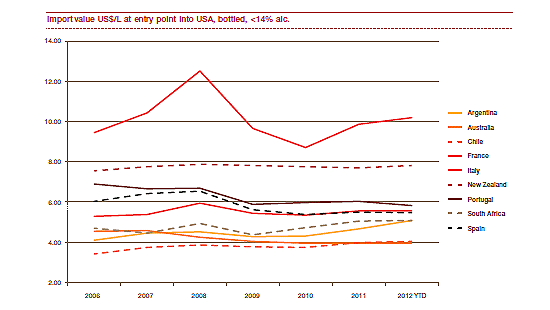 ------------------------------------------
Richard Longman is a partner at PwC who recently released the report, New Zealand Wine Insights from which this article is extracted. You can contact him here ». You can see the full report here ».