With 119 farms Landcorp is the largest corporate farmer in the country and is publicly owned. It has had a 'solid' year. Allan Barber assesses its results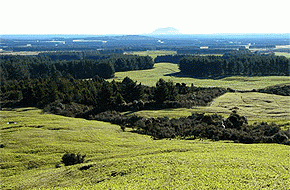 By Allan Barber
Landcorp's net operating profit of $27 million for 2011/12 was down on the previous year, but was still seen as a solid performance.
The SOE will pay a $20 million dividend to its shareholder, the NZ Government, in spite of a softening in global commodity prices compared with 2010/11.
A good growing season meant higher production and productivity, but the impact of lower dairy, beef and wool prices saw a 7% reduction in annual revenue.
Calving, lambing and fawning percentages were well up on last year, although slightly behind target for calves and fawns.
Lambing percentage at 139.2% was very good.
Profit was down for the period because of a $12.7 million increase in expenses, mainly pasture maintenance, supplementary feed and farm working expenses, and overall revenue reduction of $8.9 million.
Softer demand affected dairy, beef and dairy prices, partly offset by lamb returns, up 5%, and venison and deer velvet, as well as higher production.
The budget for the current 2012/13 year is for profit at $12.7 million to be less than half last year's and less than a third of the 2010/11 year because of falling prices due to global financial concerns and the obstinately high NZ dollar.
Landcorp is New Zealand's biggest and most diversified corporate farmer with a total farmed area of 173,000 hectares and nearly 1.5 million stock units throughout both North and South Islands.
In 2011/12 it produced 13,357 tonnes of milk solids, 10,176 tonnes of sheep meat, 9,715 tonnes of beef, and 2,258 tonnes of venison as well as large volumes of wool and timber. Landcorp has a target of selling 80% of its lambs on fixed price contracts to Silver Fern Farms, Alliance and other meat companies and last year achieved in excess of 70% by this method, proving to its satisfaction that this provides less volatile and overall better market returns than spot trading.
Lamb production is geared to meet specific weights and specification to fulfill meat companies' contracts with northern hemisphere retailers.
As a founder partner with Silver Fern Farms and the Ministry for Primary Industries in FarmIQ Systems, Landcorp is committed to the development of integrated value chains from pasture to plate, designed to align New Zealand production and supply with consumer demand preferences.
Twelve of Landcorp's farms are now on FarmIQ's farm management system.
The development during the year which attracted most publicity was the joint venture with Shanghai Pengxin to manage the 16 Crafar farms bought from the receivers and expected to get underway shortly. One of Landcorp's goals is to increase its involvement in the dairy industry and, in addition to the JV with Shanghai Pengxin, an extension to Maronan Dairies in Mid Canterbury and further development of Wairakei Estates near Taupo will contribute to this. Shanghai Pengxin will invest $15.5 million over three years in upgrading the farms which will lift annual production to around 5,000 tonnes of milk solids, increasing Landcorp's total production by more than a third Sheep and beef finishing has been boosted by the development of Cheltenham Downs in Manawatu and this has helped recovery from the drought years of 2007 and 2008.
In an industry such as agriculture which necessitates large land holdings and variable returns from year to year, there will always be questions about the validity of state ownership. But the SOE model achieves two key objectives: first, the enterprise is able to function at arms length from the government and second, there is no risk of these large swathes of farm land being sold to overseas investors.
Landcorp is a well managed farm business which could no doubt produce better profits, at least in some years, with different farming practices or mix of activities.
But the SOE seems to tick most of the relevant boxes. It is profitable most years, occasionally extremely so; it has very extensive genetic records which are very valuable for tracing bloodline and breed performance; it invests in innovation and technology; its farms are well maintained and it appears to have sufficient capital for reinvestment; and over the past 22 years it has paid dividends to the government, therefore New Zealand as a whole, of nearly half a billion dollars.
There's no evidence that Landcorp is constrained by public ownership or that it would benefit from part privatisation.
This doesn't seem to be an argument the country needs to have, at least in the short term, so we are all likely to enjoy the pleasure of farm ownership for some time.
Long may Landcorp continue to prosper.
--------------------------------------------
Allan Barber is a commentator on agribusiness, especially the meat industry, and lives in the Matakana Wine Country where he runs a boutique B&B with his wife. You can contact him by email at allan@barberstrategic.co.nz or read his blog here »