Richard Longman says that despite a 17% fall in production from 2011 to 2012, there is likely to be a resurgent vintage in 2013 on rising prices. Your view?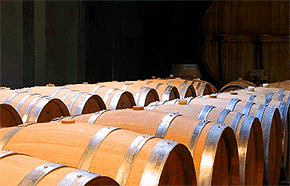 By Richard Longman*

The composition of vintage 2012 and the reasons for the 18% reduction in tonnage have been well documented.
However, we make a series of observations in relation to the vintage, current activity with respect to supply contracts and pricing, and anecdotal evidence as to current sentiment about vintage 2013.
Supply shortage
New Zealand wine had developed its markets to the extent that those markets were able to absorb the large production of 2011 (235 million litres) and wine inventories were starting to fall.
Pricing pressure still existed on New Zealand wineries and brand owners as many customers had access to bulk wine to supply their private labels which competed with the branded wines. But those private label owners were starting to find the sourcing of bulk wine challenging as the market tightened, suggesting the industry was getting closer to a demand and supply equilibrium.
The fall in production from vintage 2012, to 194 million litres will short some markets and wine companies will be looking to move product to the markets and customers that produce the greatest return.
We expect exports of all wine (including packaged) to the UK in particular to reduce further over the next six months.
Ability to forecast and predict volumes
Following the cool flowering period in December last year there was a widely held view it would impact yields. The extent of that impact was challenging for vineyard owners and managers to forecast and we observe they generally had a great deal of difficulty in accurately forecasting the vintage right up until harvest.
We have heard comment the industry tends to undershoot its predictions for a low yielding year and overshoot predictions for a high yielding year. This is not surprising when dealing with a horticultural industry and the influences of climatic conditions, and it is one of the reasons a vineyard registry was recommended as part of the Strategic Review.
In our view, greater predictability will follow from capturing more data, however it will always remain a challenging exercise.
On the positive side some growers were able to make a much improved return on uncontracted grapes this year, although this is unlikely to have compensated for reduced yields. This leads to our next observation.
We expect exports of all wine (including packaged) to the United Kingdom in particular to reduce further over the next six months.
Uncertainty of vintage 2013 yields
We understand that biologically the vines prepare themselves for the following year at the time of flowering and hence the cold flowering in December 2011 will have a negative impact on the yield expectations for vintage 2013, all things being equal.
However, a warm flowering in December 2012 would be expected to more than compensate for last year's bud initiation.
The easing of restrictions on yield control by some wineries and vineyard managers seeking to increase production on the back of higher prices for grapes could result in a large vintage in 2013 should climatic conditions be favourable at flowering, subject to the affects of the spring frosts.
The chart below shows that at no point in the last 10 vintages has the harvest exceeded 10 tonnes per hectare.
However we note that in the period 2008 to 2011 there were:
• large vineyard areas of relatively young vines that were yet to mature in terms of their productive capacity, and those vines will (generally) now be in full production
• yield control measures taken by many growers and wineries as a result of contractual or industry good measures to reduce the supply post 2008
As a result we expect growers will seek to maximise their own positions and produce the greatest yield they can within the bounds of their contracts and quality undertakings/desires.
Therefore, should favourable climatic conditions prevail, a large harvest, at least as large as 2011 and potentially significantly more, could be possible.
A large swing past 2011 levels may not be beneficial to the industry and it is in the industry's interests to be vigilant to this outcome and to take a measured approach to a large vintage in 2013.
Pricing expectations
The short harvest of vintage 2012 has led to relatively strong spot market prices when compared to 2009 – 2011 average grape prices, with prices of $1,500 per tonne or more being common for Marlborough Sauvignon Blanc as an example.
Contracts that are being renewed at present are able to achieve at least that level per tonne (subject to the overall arrangements with the vineyard including yield caps).
As noted earlier, the actual tonnages produced (and the quality) in vintage 2013 will be important to the medium term development of the industry.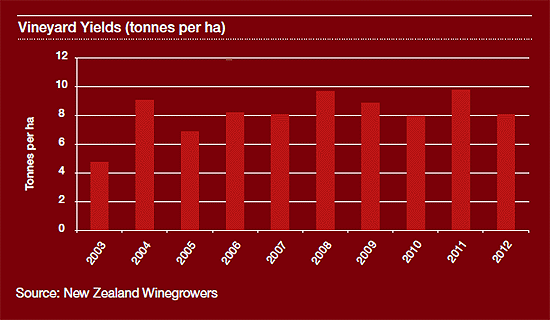 ------------------------------------------
Richard Longman is a partner at PwC who recently released the report, New Zealand Wine Insights from which this article is extracted. You can contact him here ». You can see the full report here ».