Katie Milne finds farming a socially progressive meritocracy, and says more women in leadership raises returns - provided they are qualified to be there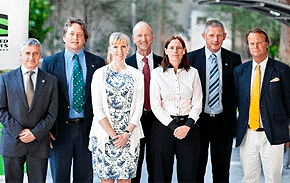 By Katie Milne*


Getting woman onto your board is undisputedly good for a company's bottom line.  
That is what the Credit Suisse Research Institute found analysing the "Gender Diversity and Corporate Performance" of 2,400 global companies.
Over the past six years, companies with female directors on board averaged 14 percent net income growth.
This compares to 10 percent for those with no female directors.
The local '25 percent group,' wants companies to realise this voluntarily and have woman taking up one-quarter of board seats by 2015.
While internationally others are talking compulsion, I want to get to the top-table under my own steam than because I have mammary glands. Throughout my time in Federated Farmers, I have never once encountered anyone who has looked down at me as some upstart Sheila. Hand-on-heart, gender issues don't seem to come into farming.
What counts is personality and mana, not to mention effort and skill.
In 2011, Jeanette Maxwell broke Federated Farmers modern glass ceiling as the first elected female board member. It speaks volumes Jeanette didn't care because it was incidental to her being elected chair of our Meat & Fibre industry group. It is one thing to break a glass ceiling but another to shatter it.
America's President Obama broke a different ceiling when elected to the Oval Office but the real test was last November when he became the first black man re-elected President of the United States. While not in the same league as President Obama, I followed Jeanette onto the Federation's seven person board mid last year.
In the space of 12-months, Federated Farmers went from no woman board members to two. In pure percentage terms that is 29 percent but like those financial disclosures read at breakneck speed, "the amount of woman on Federated Farmers Board will go up or down according to ability."
I do not know if we will have more or less woman on Federated Farmers Board by 2015 but gender will play no part in it.
That has not stopped the lovers of red tape at the European Commission from adopting a draft directive last November, requiring 40 percent of non-executive board positions must be filled by woman by 2020. Malaysia has gone further, requiring 30 percent of public company directors must be women by the end of this year.
Regulation is a twin-edged sword when the real culprit is cultural.
Forcing gender politics means that while all board members are equal, some will become more equal than others.
There is a strata on almost any board with the old hands and the newbies; breathing through their noses until they learn the ropes. Forcing things risks creating a board within a board, outwardly ticking all the right boxes except woman are denied a qualitative step forward.
I find farming to be a socially progressive meritocracy with programmes like the Agri-Woman's Development Trust and the Dairy Woman's Network.
Rural Woman NZ is very much Federated Farmers partner too.
To me the real change to board composition won't come from more regulation, but the need for companies to perform better.
Women also need to stand up and make things happen because that is how we are shoulder tapped.
In writing this, it has made me realise that once you cut through a farmer's stoic exterior, there is the beating heart of an egalitarian.
Getting that message out wider may start helping us to get on the environmental front foot because you should never judge a book by its cover.
--------------------------------------------
Katie Milne is dairy farmer, a Federated Farmers Board Member and president of its West Coast province. She is also a volunteer rural fire fighter and is Chair of TBfree West Coast. You can contect her here » or 03 738 0189, 0274 244 546