Bruce Wills reports that Federated Farmers is throwing its support behind a major programme to tackle depression among rural people. You got experiences that can help?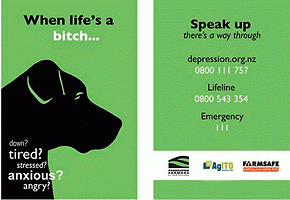 By Bruce Wills
When Sir John Kirwan heard of Federated Farmers' "When life's a bitch" campaign his people got on the phone.
Sir John's book, 'All Black's Don't Cry,' could easily be titled 'Farmers Don't Cry' because the same stoic machismo pervades both cultures.
Depression is something we put in a specific box labelled 'mental health' when it is as real as chronic back pain.
Sir John also knows the rural suicide rate is appalling.
I won't go into the triggers but 16 people per 100,000 in rural areas take their own lives versus 11.2 for our towns and cities.
Putting both into perspective is the road toll of 8.9 deaths per 100,000.
While fantastic work is being done to address depression on a national scale, in rural areas, it was the silent killer that dare not speak its name. Just as Sir John showed personal bravery in admitting depression is something that leaves you feeling isolated and "flat lines you," Federated Farmers' David Hunt stepped forward as our farmer 'JK'.
I cannot say it better than David himself.
"Depression affected me to the point that I couldn't physically work for 12 months," he said. "I was incapable of driving a motor vehicle let alone running my farm. At my worst I was living on three hours sleep a night. The tiny little things become a real issue for me and I battled to get through each day. Farmers can be their own worst enemies, we struggle to let people in or ask for help. Working in isolation makes the problem harder to identify. With the stigma around depression I didn't want to admit I had a problem, let alone take medication".
What he ran into was the high turnover of rural doctors and we know in some areas that waiting lists are measured in months.
When David decided to seek treatment, "my original doctor had left the practice so I ended up seeing several different locums all offering me different advice because they didn't know me. There seems to be a shortage of resources in the rural health sector to cope with the problem. We need to do something about this. More people take their lives through depression than road accidents, but we are not talking about it. If we don't address the increasing numbers of rural suicides, we are letting farmers down".
What brought things to a head for him was another farmer suicide.
With Sir John lifting the depression stigma, David stepped forward to share his experience in order to help other farmers out.
What helped him in return were other people opening up about their experiences.
"There is no shame in it," David adds. "Depression is a hereditary illness that causes a chemical imbalance in your brain, there's no choosing what illness you get".
Federated Farmers response was that provocative sounding "When life's a bitch" campaign to get farmers saying "depression."
Backed by wallet sized cards carrying the universal symbol for depression, 'the black dog,' the strong words we chose cuts through the turmoil sufferers feel.
This was best put by Sir John Kirwan in a TVNZ interview, "When you're in depression you don't feel normal ... You feel isolated ...weak and lose your confidence".
On the card's reverse are vital support numbers outside of farming. Our profession is small and with depression it is sometimes better to talk to trained people who not only empathise but are one-step removed. You can truly open up and it also helps farmers to understand that they are not alone either.
"If your spirit or soul is upset, it's okay to cry," adds Sir John.
All Blacks, just like farmers, are human beings. We want to publicise all organisations that are trying to improve rural mental wellbeing.
Rural Woman New Zealand is undertaking a 'Feeling Rotten' health survey and there is also the Dairy Farmer Wellness and Wellbeing Programme run by the Dairy Women's Network, DairyNZ, the New Zealand Institute of Rural Health and AgResearch.
Several of our Rural Support Trusts also provide great support to rural people experiencing depression too.
But I would like to say a heartfelt thanks to the AgITO/PrimaryITO, Farmsafe, Beef & Lamb NZ, Vodafone and the Rural GP Network. They have been invaluable.
It is all about getting the message out there as Federated Farmers wants to publicise any group who can help. Especially if we can make farmers aware that their friends and colleagues are there for them.
Given the scale of this silent killer, getting better resources for health practitioners is something Federated Farmers can lobby for.
A three month mental health waiting list in rural New Zealand is not good enough.
In the meantime our Farming 'JK', David Hunt finishes with this poignant advice; "If you think someone is struggling, be brave, pick up the phone, knock on the door or find someone who has a rapport with that person to help. At least you tried".
Federated Farmer's website has a page dedicated to Rural Mental Health. Wallet sized 'When Life's a Bitch' cards are also arriving in farmers' mail boxes too.
-------------------------------------------------------------
Bruce Wills is the President of Federated Farmers. You can contact him here »