Bruce Wills says real agreements built off real achievements are showing real gains. He cites Lake Rotorua's water quality gains and hopes farmers' backing of Wools of NZ will kickstart the campaign for wool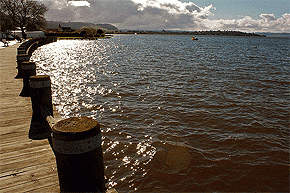 By Bruce Wills
By chance surfing the Freakonomics website I came across a discussion on, "It's always darkest just before the dawn". 
One person captured its essence writing, "one who has been up through a whole night, especially a winter's night, has been well-immersed in darkness by the time the moments before dawn arrive. If darkness is a metaphor for a person's fear, suffering, or grief, such long experience will have written its pain deeply on the person as the night draws to a close. Thus, the worst or "darkest" moments will come just before dawn".
While farmers anxiously hope NIWA is right and widespread rain is close at hand, "It's always darkest just before the dawn" rings true for both the wool industry and perceptions around dairying's environmental footprint. 
Several weeks ago I said strong wool was the biggest missed opportunity for 'NZ Inc.' In the mid-1990's, after all, wool was worth a third of what dairy exports generated back then.  If this value implosion was anything but a 'rural story,' our mainstream media would have climbed into it while the Opposition would have called for heads to roll.
Not being a fence sitter, I penned opinion editorials, spoke to farmers and gave interviews on why strong wool growers needed to do something.  It helps that I had put my chequebook where my mouth is because doing nothing was no solution.
A few weeks on and wool growers have backed Wools of New Zealand beyond the $5 million it needed to form a 100 percent grower owned company.
With Wools of New Zealand and the farmer owned Primary Wool Co-op, strong wool growers are adding sales and marketing bows to their farming one. It is truly significant that Wools of New Zealand was backed in less than stellar economic times. This is also good news for Primary Wool Co-op. Farmers have shown enlightenment at a time when drought and falling commodity prices has many heads down. We know the only way to realise the true value of wool is to upsell its qualities into specifiers, builders, architects and designers. Wools of New Zealand might not be the breaking of a new dawn for wool, but it is the first hint of light in an otherwise dark sky.  
The same can be said about Lake Rotorua's "average" water quality. I know of no other case where "average" is "excellent" but it fits Lake Rotorua. Rotorua also points to where the new Sustainable Dairying Water Accord could take us when the whole community gets in behind.
A few years ago Lake Rotorua was so poor farmers were told it would take decades to fix it. There was no time limit set for it to reach a target Trophic Index Level of 4.2; the measure of nutrients in the lake.
Yet by working as a community and ignoring the 'doubting Thomases,' Lake Rotorua exceeded that target last year with 4.1 or "average" water quality. Something that took years yes, but not the decade's that experts had predicted.  Disappointingly, media coverage has mostly missed this massive improvement. Instead, it has focussed on an agreement Federated Farmers signed with Te Arawa and councils for the next 20-years. 
The word outstanding does not come close to describe what has been achieved there. Lake Rotorua's improvement was in part due to farmers fencing and planting. This was dairy and drystock farmers aided by expert advice from the likes of DairyNZ. The Lake's improvement was in part due to councils getting on top of sewerage and partly due to the whole community taking ownership. 
Taking ownership defines the new Sustainable Dairying Water Accord. Some naysayers actually highlight the danger dairy farming faces; the impression better water is all down to them when it isn't. The only way it will work, as with Lake Rotorua, is if we all take responsibility.
Rotorua District Council's on-land treatment of its liquid waste prevents most nutrients going into the lake but it remains one of the few exceptions. Most of New Zealand's treated urban and industrial wastewater still ends up in rivers or the sea. We are talking about 1.6 million households and almost 500,000 businesses.
Responsibility also includes farmers like me who farm extensively. Extensive farmers need to get on top of erosion that sees sediments and nutrients lost to water. This explains why I am an evangelist for poplars and willows because we need to keep our hills together.  
Major farming changes are bearing fruit because the Sustainable Dairying Water Accord and the Lake Rotorua agreement aren't woolly feel good aspirations. They are real agreements built off real achievements. By the end of next season, 90 percent of all dairy cattle will be excluded from water and all will be excluded from wetlands. By June 2017, it will be 100 percent. 
Better water is a team effort of farmers with councils and communities. Just look at Lake Rotorua for what is achievable when it all comes together and that is also my hope for wool. Suddenly, I can see a strong glow of light appearing on the horizon.
-------------------------------------------------------------
Bruce Wills is the President of Federated Farmers. You can contact him here »