Calf sellers nervous as feed supply will weaken demand. Prices rocket to record levels as milk flows dry up. Mood for change builds in at risk meat industry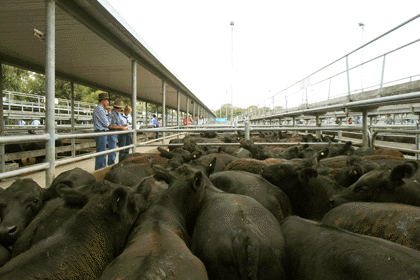 BEEF
Disappointing schedule levels for all beef grades as farmers harvest early at lighter weights adding to the poorer returns. Space is tight and increased volumes of lean beef mainly from dairy culls has resulted in manufacturing schedule prices reaching levels not seen for two years. Maybe this is a sign of profit taking by processors as imported cow meat prices are rising in the US even with the increased supply.
Reports out of the States suggest their will be a unprecedented shortage of beef going into the 2014 season as breeders desperately try and recover breeding stock numbers by retaining young female animals. This is seen as a real opportunity for NZ and Australia to take advantage of this shortfall although our recent drought will restrict any production increase.
The main selling season for beef calves is about to start and feed conditions have already seen prices received fall about 17% from last year on the early northern sales. Consistent rains will be needed over this month to reignite this market or breeders will take another financial hit already severely dented by the sheep downturn.
DAIRY
The drought continues to dominate agriculture and while all areas have received rain this week nobody is calling this moisture a drought breaker. Caution that these rains may herald a major eczema outbreak and all farmers are warned to put in place preventative measures early. Economists are pricing the cost of this drought at $2 billion and many in the north describe the feed situation as the worst they have experienced.
Dairy production figures hung in there for January but February/March milk flows are expected to show huge declines as heavy culling, OAD milking, and drying off decisions were made. Meat processing plants are close to capacity as all inefficient capital stock ( dry, skinny, lame or low BW cows) are culled and bought in feed is targeted at only the best stock.
Palm kernel prices are rocketing up with a 35% lift already experienced in the Waikato and high breeding worth empty animals values are dropping as decisions are focused only on the short term issues. Farmers are being warned that when growth appears again it will be at low DM levels and during this period cows are historically most in danger of being underfed.
The latest dairy trade auction prices rocketed skyward again with values reaching  highest ever levels for whole milk powder and second highest for skim milk. Analysts suggest however that there may not be much adjustment to payout levels as the rapid fall  in milk flows will negate any ability to take advantage of this uplift in prices.
Tatua has once again led the pack with a monthly 30c/kg monthly advance for the next 5 months to help shareholders pay their way through increased feed costs as a result of the drought. And with its predicted payout $1.40 ahead of its big competitor, Fonterra is under pressure to respond to the farmers plight in a similar fashion.
LAMB
Lamb schedule stability at the bottom, is little comfort for most, as feed supply is dictating harvesting and space is reported to be tight in the lead up to Easter. Strong sales over this period are important to reinvigorate the market and following this Chinese interest in frozen product will be a key to the recovery.
A late autumn contract by one large processor of between $4.60-$4.80/kg has set the early benchmark but everyone agrees that supply will soon be an issue for quality chilled product and local consumers should expect to pay more in the winter/spring. Slaughter rates in the north are reported to be their highest for 25 years but carcass weights have fallen sharply as a result of the early harvest.
Positive support was given by farmers to use Meat board reserves for the joint PGP project and a big turn out in Gore asked for more stability, viability and transparency in the sheep and beef industry, as many feel D Day for survival has arrived and major structural change is needed now.
The store lamb market is being described by agents as tough and prices have fallen accordingly.
WOOL
Another auction where prices quietly lifted and clearances that saw more wool being used by the market. However crossbred values are about 20% behind the same stage last year and need to get back to this level to make this product sustainable for farmers to grow.
LOGS
Strong harvesting volumes are being driven by firm markets stimulated by Chinese export demand and the domestic market fueled by a new house housing boom.
Analysts warn however that prices are now reaching a level that previously has reinvigorated increased supply from the vast North American market and this may dampen further upside.
This lift in prices may prove valuable for livestock farmers as they could look to bridge the cash deficit with some woodlot harvesting.
DEER
Velvet marketers report a slowing down of buying interest since Xmas as the Chinese customers have got very particular about what grades they are going to purchase. They continue to dominate the market and historical Korean participation is being slowly replaced with Chinese buyers who purchase green and dry cheaply back on their home shores. Quality concerns remain about the trophy influence in heads but as yet the market discount is not severe enough for style changes to be made at the farm gate.