Fonterra increases payout forecast around 30c to NZ$6.12/kg after strong profit, higher milk powder prices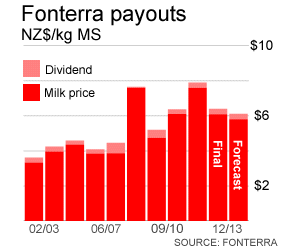 By Bernard Hickey
Fonterra has announced an increase in its milk payout forecast for the current 2012/13 season to around NZ$6.12/kg for a fully shared up farmer.
This is up from a forecast payout range of NZ$5.90 to NZ$6.00/kg, including dividends, in late February and follows a strong first half profit result and a surge in milk powder prices after a drought. 
The new forecast is based on a higher forecast Farmgate Milk Price of $5.80/kg (up from NZ$5.50) and a forecast dividend of 32 cents per share. Fonterra also narrowed its earnings per share guidance to 45-50 cents per share from 40 to 50 cents. The correct comparison of dividend plus milk price shows a 30 cent increase in Fonterra's payout forecast, not 15 cents as previously reported.
The previous year's total payout was NZ$6.40/kg, including a milk price of NZ$6.08 and 32c of dividends.
Fonterra's net first half profit rose 33% to NZ$459 million, "following a particularly robust performance by NZ Milk Products and significant lifts in sales volumes in Fonterra's Asian and Latin American brands.  These achievements were partly offset by continuing challenges affecting the performance of the Australian business."
Fonterra Chairman John Wilson said the new forecast reflected a recovery in global dairy commodity prices over the past two months, pointing to a 27% rise in milk powder prices since February.
"World dairy trade growth is being led by powders (combined whole milk and skim), reflecting strong demand at a time when global supply is constrained," Wilson said.
Flat production and early payout
He said an excellent spring and early summer had produced record milk volumes in the first half of the year, being up 6% from the same half a year earlier.
"However, the dry conditions in the North Island since January have created real challenges for our farmers, with many turning to supplementary feeds and shifting to once a day milking to maintain the condition of their herds," he said.
"The drought in the third quarter has been more severe and lasted longer than anyone might have predicted, and means we are currently forecasting total milk collection volumes for the full season to finish in line with last season."
Fonterra collected 1.476 million kgs in the last season. 
Wilson said Fonterra's strong balance sheet and cash flows had allowed it to increase the advance rate paid to farmers, which would mean average farmer shareholders would receive NZ$100,000 earlier in the season.
"This is particularly important to our farmers.  It means we are getting cash to them faster, as they begin to dry off their herds for the winter earlier because of the drought and no longer have milk flowing."
Fonterra said it would increase the interim dividend to 16 cents/share from 12 cents, which was up 33% from the previous year and the maximum allowed under Fonterra's dividend policy.
Earnings Before Interest and Tax (EBIT) rose 26% to of NZ$693 million, but revenue fell 7% to NZ$9.3 billion, which Fonterra said reflected lower dairy commodity prices and the strength of the New Zealand dollar against the US dollar.
First half milk volumes rose 6% from the same period a year earlier, while external sales volumes rose 8% to 2.1 million tonnes.
Fonterra's debt to equity ratio improved to 40% from 47% a year earlier, while earnings per share rose 21%.
Australian problems
CEO Theo Spierings said NZ Milk Products performance had been good with EBIT riseing 65% to NZ$422 million despite a 16% fall in US dollar denominated commodity prices.
"While our consumer business performance in New Zealand was slightly better than last year,  Australia's consumer business had to contend with a very competitive retail environment," Spierings said.
"Meanwhile, the ingredients business experienced a significant margin squeeze as the competition for milk supply in Australia intensified.  This was compounded by an adverse product mix due to lower demand in the export sales of value-added nutritional powders, and more milk being channelled into lower value milk powder sales," he said.
"A recovery plan is now in place, with the planned closure of our Cororooke site, continuing rationalisation of the brands portfolio, and cost reductions following a recent restructure of the business."
Spierings said volumes in Asia and the Middle East had risen 13% to 186,000 tonnes
Latin American earnings rose 5% with solid earnings growth from Soprole in Chile, which was offset by a weaker result from Dairy Partners America.
Outlook
Spierings said Fonterra's strong first half earnings were unlikely to be repeated in the second half.
"For the full year, we expect to see total milk volumes for the current season to be in line with last season. The ongoing volatility in commodity markets could have a negative impact on product mix profitability. In many of our consumer markets, we are expecting intensified competition in the second half – particularly in Australia – and in Asia we are seeing signs of demand slowing," he said.
(Updated with full statement, details, chart, corrects change in payout to adjust for dividend plus milk price)