Toby Daglish says new devices like the TAF mitigate the difficulty of spreading dairy risk and that is good for both farmers and investors alike. Your view?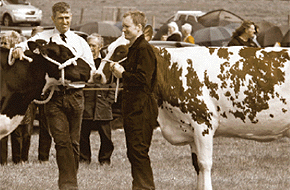 Introduction of new securities into a financial market can help to move the market towards the Holy Grail of 'completeness'.
Why is this important, and what does this tell us about Fonterra's Trading Among Farmers scheme?
Investors generally seek to balance the tradeoff between risk and return when deciding how to spread their money through the financial market.
Holding lots of different stocks, bonds and other assets enables investors to avoid having all their eggs in one vulnerable basket.
However, frequently we encounter situations where unbalanced holdings are unavoidable. Buying a house, for example, often results in the homeowner having a large portion of wealth tied up in a single asset.
Small-business owners face a similar problem; and so do farmers, whose livelihood depends on the profitability of their farm (which is itself largely determined by commodity prices beyond any individual farmer's control).
On the opposite side of the fence, a nonfarmer 'city slicker' may look enviously at the farmer's exposure to commodity prices.
These may offer high returns and may be exposed to risks that are not common to many other investments.
To the non-farmer, being able to introduce dairy or other commodity price risks into his or her portfolio may seem like an attractive proposition.
The inability to move dairy exposure to the non-farmer's portfolio arises because of incompleteness of the financial market.
Since there are no securities that have payoffs contingent on milk prices, the two individuals are stuck: one unable to invest in dairy; the other with too much at risk because of it.
A possible solution to this problem would be for farm ownership to take the form of companies with tradable shares.
Then ownership could be spread among many investors, and the risks and returns could be diversified among them. But since most New Zealand farms are not traded companies, this is not a solution.
Furthermore, the problem is exacerbated because the major dairy processors (Fonterra, Tatua) are farmer-owned co-operatives and do not have tradable shares either.
Fonterra's Trading Among Farmers scheme helps mitigate the difficulty of spreading dairy risk.
At present, farmers selling their milk through Fonterra receive initially a farmgate price for their milk and then a share (proportional to their milk production) of profits realised by the co-operative from selling the processed milk in the wider market.
Under the Trading Among Farmers scheme, farmers can elect to sell a portion of this profit margin while retaining the voting rights they have through their existing shares in Fonterra.
Allowing farmers to separate and sell some of the volatile component of dairy revenue from their farms allows a mutually beneficial trade to occur. The farmer now has money that can be invested in other securities (or used for physical investment, or to pay down debt). This allows farmers to diversify, and their nonfarmer counterparts to expand their portfolios into previously inaccessible dairy markets.
Trading Among Farmers is not the only example of introduction of a new security that allows diversification.
The use of weather derivatives (securities that pay off as temperatures vary) allow power companies to hedge risks of high demand for heating or cooling. Securities that pay off in the cases of natural disasters allow insurance companies to hedge their exposure to risk from claims. Interest-rate swaps allow banks to shift interest-rate risk among themselves or on to other investors.
Trading beyond farmers
It's interesting to reflect on the effect of this gainful trade on farms and other assets in the economy.
Allowing farmers to partially diversify away the risk from downstream effects makes farming a less risky activity.
With farming being less risky, would-be farmers require a lower return to induce them to purchase a farm and this would translate into a higher price for rural properties.
Similarly, investors who examine other investments in the economy know that they can mitigate their risks by including commodity risks in their portfolio.
Less exposure to what economists call 'idiosyncratic risk' (risk associated with a single security) should make investors willing to pay a higher price for assets. Hence owners of existing securities should reap the benefits of an enlarged pool of securities available. Trading Among Farmers therefore ultimately benefits the entire New Zealand economy.
-----------------------------------------------------------------
Toby Daglish the the research director of the ISCR (New Zealand Institute for the Study of Competition and Regulation). This article was first published on their website here » and is reprinted with permission. You can contact him here »