State owned farmer Landcorp says it won't now post an annual profit and won't be paying a full-year dividend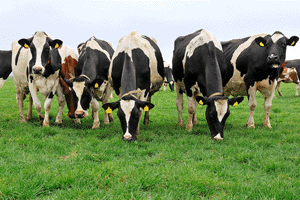 State owned farmer Landcorp says, thanks to the drought, it doesn't expect to record an annual profit and is therefore unlikely to pay the Government a full-year dividend.
In releasing its interim report, Landcorp said when the report went to the printer it had expected an operating profit of between NZ$6 million and NZ$8 million for its 2012/13 year, down from NZ$27 million last year when it paid a NZ$20 million dividend.
"Since then Landcorp has experienced the worst widespread drought in many years," Landcorp says. "As a result, it is unlikely that the Company will report an operating profit for the year and consequently it is not likely to pay a full-year dividend."
This comes after Landcorp said on March 25 it was expecting to break-even for the full-year to June 30. It had originally budgeted for annual net operating profit of NZ$12.7 million.
Landcorp says dairy and meat producers will generally have lower returns in 2012/13 due to lower international market prices and the relatively high New Zealand dollar.
For the first half-year, to December 31, Landcorp's operating profit fell NZ$8.5 million, or 77%, to NZ$2.5 million. The company said the first half of its last financial year was a period of "much higher product prices and excellent climatic conditions." Half-year revenue dropped NZ$7.6 million, or 7%, to NZ$95.4 million.
Meanwhile, Landcorp said it had invested NZ$21.4 million on livestock for the 16 former Crafar farms through its partnership with China's Shanghai Pengxin for their development and management.
"Current share milker arrangements continue through the current transition period, till commencement of the 2013.14 dairy season. Plans for the farms, encompassing a total of 5,689 effective hectares, include further substantial investment by Shanghai Pengxin to lift productivity and the establishment of a Landcorp-led farm training programme from 2014/15 onward."
See Landcorp's press release here and its full half-year report here.