The Weekly Livestock Report: Beef and lamb prices move off the bottom, but lamb numbers predicted to plummet next year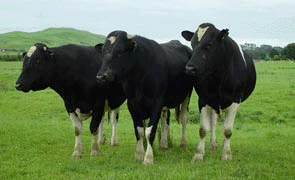 BEEF
More northern beef schedule lifts as supply shortages for quality animals starts to appear.
The ANZCO chairman Sir Graeme Harrison is excited about beef prospects in China after being part of the PM's trade delegation into China forecasting a trebling of demand by 2015 and huge prospects after that.
It is predicted within 10 years China will replace the US as the dominant market and Sir Graeme suggests that young grass fed bulls could be the product to produce and improve returns to slow the tide of dairy conversions.
More calves are being offered in the north at levels $200/hd behind last year and in the south farmers have noted one meat processor is buying heavily at saleyards.
Some would argue it's not the role of meat companies to compete with farmers for store stock but they should be sending out positive market signals by way of schedules and contracts to allow farmers to respond.
DAIRY
Rains have finally arrived for many areas and now farmers are being urged to act quickly and make decisions to maximize pasture growth and get animals back into optimum condition for the new season.
More rains are predicted and now it is a race to produce feed before lowering soil temperatures restrict growth.
Facial eczema spore counts have risen spectacularily with deaths of dairy cows reported in Taranaki and farmers are encouraged to use all preventative measures during this at risk period.
The rains have arrived just in time in Canterbury to revive cow and heifer grazing winter crops and one agent predicts prices will be similar to last year in the 22-24c/kgDM range.
Most in the north have stopped milking and are focusing on preparing for the new year as Fonterra reported a huge fall off in milk collections last month.
The milk commodity prices continue to surge with the big lifts in Oceania driven by supply shortages and a slow start to spring in Europe. The latest global dairy trade price surge slowed with skim milk powder prices easing although whole milk powder and cheddar reached levels never seen before at auction.
The Maori owned dairy company Marika has signed a deal with new Chinese owners of the former Crafar farms to process their milk while in Australia supermarkets are dumping the middlemen and are buying milk direct from the farmers.
The Federated Farmers farm employer remuneration survey showed rural wages were ahead of the national average wage and an incentive for workers to join agriculture as a rewarding career.
LAMB
At last some upward movement in northern export lamb schedules as the drought has reduced the number of quality lambs available for chilled demand.
However lack of feed has seen many farmers bail out of winter lambs and large numbers have been traded at the Fielding and Gisborne saleyards.
Analysts suggest 2 million lambs will be lost from the country next year mainly due to the drought but also slowly being eroded due to changing landuse with dairy profits attracting the change.
But a major handbrake to a quick upturn in sheep meat prices continues to be the rising currency which has now reached record TWI levels and is making our product unaffordable to many customers.
More national meetings are being held by the Meat Industry Excellence group and it is hoped strong farmer support will see structural change which will restore all sectors back to profitability.
The Christchurch meetings attendance was disappointing but the resolve of attendees was strong recognising they need to fix their broken industry with a new model that returns this industry to sustainability.
Fieldays exhibitor support has defied the drought, and Landcorp have announced that the  new CEO will come from PGGWrightson Seeds.
WOOL
All year the wool market has handled the slow and steady rise in currency but this last upward lift had a negative impact on prices with all indicators falling sharply.
Crossbred prices are now back to about this year's average but are still 120-160c/kg behind last years sustainable levels.
Merino NZ's model of adding value to all parts of the sheep has encouraged rising numbers of fine wool growers to commit to selling their wool under contracts which has provided certainty in price and less volatility of returns.
LOGS
Log prices have firmed to a yearly high but analysts suggest they are near to the top, amid record volumes being harvested and the port of Tauranga exporting a fully loaded vessel every second day.
Timber representatives accompanied the trade mission to China, to support the growth in log exports to that country but also to encourage Chinese investment in processing plants back in NZ to add value for our quality product.
---------------------------------------------------------------------------------------
Here are some links for updated prices for
- lamb
- beef
- deer
- wool