William Rolleston asks given our climate will change, isn't it smarter for public policy to enable the technical and infrastructural solutions we will need to meet it?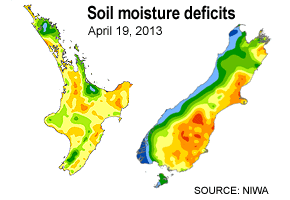 By Dr William Rolleston*

As the weather changes, it is worth looking back at the unnamed 'experts' who warned the drought gripping the North Island "could spell the end for farming as we know it. That it could cost the country billions of dollars in drought relief each year before practices are adjusted."
This suggestion has gripped the media for days and is worthy of examination.
It is obvious to most of us in agriculture that our farming systems are thankfully in a constant state of change. 
When my grandparents married in the 1920s paddocks were worked by horse, we used fire on the foothills to supress native species and we watered our stock through a series of muddy ditches.
Productivity and production was low and when drought hit, we were poorly prepared for it. Wool was seventy per cent of our income and meat a mere by-product.
When their tenure ended in the 1970s farming practices had been transformed. 
Tractors had replaced horses, clean stock water was reticulated by pipe, fertilisers replenished valuable nutrients, modern hybrid seeds, pesticides and breeding had created leaps in productivity and we no longer burnt the foothills.
Today we are in the midst of another farming revolution dominated by precision, information and environmental constraint. 
Satellites have improved our weather forecasting, ultrasound is enabling us to measure pasture and soil to metre accuracy.
The combination of herbicides and direct drilling reduces our risk of soil erosion while GPS and computer technology enables us to apply just enough water and nutrients to our pastures and crops.
These tools of precision agriculture enable us to increase productivity while minimising our environmental footprint.
Gregor Mendel's work with peas in the 19th Century demonstrated genetic inheritance. Molecular biology is now unlocking the secrets of plant and animal genomes and we use this information in our breeding programmes through marker assisted selection.
Genetic modification is yet another tool which could greatly enhance precision and adaption, but for New Zealand, that requires a mature informed debate first. 
More conventional tools can be found in the engine room of any farm; its pasture and crops. New pest resistant varieties of Lucerne, championed by farmer Doug Avery, have enabled its renaissance in water depleted environments.  Other deep rooted species such as chicory, plantain and even tree crops for fodder also have their uses in times of drought.
The prediction that there will be more extremes of weather has been taken seriously by farmers. This is why Federated Farmers has strongly advocated for water storage. 
The Opuha Dam has effectively drought-proofed a large swathe of South Canterbury during this big dry. Water captured during the high river flows in December is still being used and the lake remains above its average level for this time of the year.
Opuha has been lauded by Labour and National politicians. Even Dr Russel Norman seemed impressed when Federated Farmers hosted him there several years ago.
It provides water for farms, an environment for aquatic life, a place to recreate and minimum flows to the formerly summer dry Opihi River. Economically, it has exceeded all expectations but Opuha opened in 1998 and remains our sole contemporary example of large scale agricultural and environmental water storage.
For intensive cropping, dairy and horticulture, the benefits of irrigation are self-evident. Yet much irrigation is dependent upon groundwater or river takes and both are affected by drought or just summer.
Capturing and storing water during winter frees irrigators from river takes and groundwater. Yet water storage is also a breakthrough for drystock farming too. Irrigating even 20 hectares of a farm becomes a pasture generator reducing that climatic lottery we currently have. 
According to the ANZ Bank the current drought has already cost New Zealand over a billion dollars with $2 billion now being spoken of.
Irrigation NZ estimates these sums, if invested in water storage projects, would future proof Canterbury for the next 100 years. Like Irrigation NZ, Federated Farmers believes the solution lies in a combination of regional and on-farm water storage.
This is where the government is providing assistance and not, I must say, in the imaginary "billions of dollars in drought relief" for farm businesses being proclaimed by the unnamed "experts".
The only way for a farmer to access a means and asset tested state benefit is identical to any other New Zealander. What drought declarations do unlock is advice and counselling.  There is of course the obvious psychological boost farmers receive in knowing they have not failed as individuals.
Farmers are smart adaptive people. They always have been.
Farmers have always used knowledge to improve and change their practices.
This is why agriculture still provides so much to our economy and society.
Given our climate will change, isn't it smarter for public policy to enable the technical and infrastructural solutions we will need to meet it?
-----------------------------------------------------
Dr William Rolleston is the Vice-President of Federated Farmers and farms in partnership with his brother John at Blue Cliffs Station. 
Dr Rolleston, is a founding shareholder and director of biotechnology business South Pacific Sera and is a member of the Ministry of Business, Innovation and Employment's Science Board.