Bruce Wills points out the unintended consequences of the Labour-Greens NZ Power proposal and says there are much bigger 'domestic cost fishes in the sea'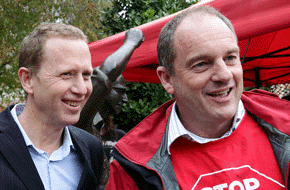 By Bruce Wills*

Cynics may say the next general election is shaping up as the power bill when the last was the milk bottle.
While power has an undeniable populist appeal to it; who doesn't want cheaper power?
That appeal wains when you start adding up the pluses with the minuses.  
Coming after the gleeful "Hey Clint!" misstep by the Green's Gareth Hughes, it was disappointing to read "hyperbolic claims" as the latest Green response to an open letter from businesses about their power policy.
While Federated Farmers wasn't a signatory to this letter, our views were made clear within days of the policy's release. 
You see farms are big energy users so we have a lot of interest in anything that may save or add to its cost. The average dairy and arable farm will use $25,000 worth over a year but for some, the bill is much higher. 
Yet for low volume electricity users the line charge now makes up a significant percentage of the final bill.
There are no alternatives being proposed for that which seems odd.
Is it also no wonder why our energy spokesperson, Anders Crofoot, has described the Labour/Green policy as "Robbing Peter to pay Paul".
Online, Federated Farmers asked a reasonable question of senior Labour MP Annette King.  We simply wanted to know what costs a Labour/Green Emissions Trading Scheme (ETS) would add to domestic and company power bills. 
Disappointingly, what we got back was something out of the 'attack is the best kind of defence' school, "I get it! It's an attack by the Feds on ETS don't worry about the cost of power bill on the householder!" 
Funny, farming families happen to be householders too. 
Helpfully, for us at least, the business journalist Rob Hosking answered the question we had put to Annette King; "In 2008 [Labour's David] Parker costed ETS as adding $140 million to costs of [the] generation sector." 
Suddenly those 'savings' drop like stones because that was five years ago.  What a hybrid Green/Labour ETS will cost can only be guessed at, 'higher,' seemingly a safe place to start. 
As for the pro-jobs argument of their combined power policy, that must be measured against a more strident ETS.
Labour's 2008 ETS would have increased the farming bill tenfold to some $40,000 per farm; imagine what that would do a primary sector employing almost 150,000 New Zealanders? 
Imagine what that would also do to the likes of the Tiwai Point Smelter or small engineering firms too.
Yet the idea that a single power purchaser could become an energy Pharmac does not stack up. As our Anders Crofoot observed, "Pharmac purchases medical products from the global market whereas the proposed buying agency is limited to local power generators. Unlike with pharmaceuticals, there is no such thing as 'generics' when it comes to electricity. Nor can we do what happens overseas and 'import' power from other countries".
Britain imports electricity from France, Ireland and the Low Countries.  Occasionally, it has managed to export some back but the bulk purchasers there have not just national choices, but choices from Europe too.
In the United States, some can 'buy' power from other states or 'import' power from Canada.
California has been put up as a Labour/Green exemplar but California is wracked by poor infrastructure and unreliable energy sources.  There is speculation it is now perilously close to blackouts last seen a decade ago; something which got the Wall Street Journal writing about it in February. 
California's over reliance on renewables is one factor, but controlled pricing is another.
Controlled pricing does not produce innovation or encourage private sector investment in electricity. There is also the high risk of stopping any innovation which may increase profit margins.
Stopping innovation in an economy like ours is a strange message to send. 
Forsyth Barr's Andrew Harvey-Green has further estimated that the Labour/Green power policy could wipe up to $1.4 billion off the values of Contact Energy and TrustPower alone. Wiping that sort of value implies you will wipe more than a few jobs too.
Remind me again, where are KiwiSaver funds and the SuperFund invested?
Not only that but the rebate cheques and community support provided by the likes of the Tauranga Energy Consumer Trust will be hit for six.
The most damming comment I read was from Steve Morris in the Bay of Plenty's Sunlive; "The loser is the little guys working for the Tauranga community who depend on the Tauranga Energy Consumer Trust funds, and consumers relying on their annual rebate".
Given StatisticsNZ data indicates the rate of power price increases has slowed in recent years, so long as you exclude the ETS, there are bigger domestic cost fishes in the sea.
If only Labour and the Greens could focus their gaze upon near triple digit council rate increases since 1998.
Perhaps then we could start reigning in the less productive non-tradable sector.
-------------------------------------------------------------
Bruce Wills is the President of Federated Farmers. You can contact him here »