Rural irrigation grows quickly off a low base, most expansion in Canterbury for dairy conversions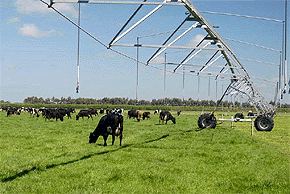 In the five years to 2012, and additional 102,400 hectares of farmland were brought under irrigation, bringing the total irrigated land in New Zealand to 721,700 hectares, according to data released by Statistics NZ.
However, the amount is still tiny; total irrigated land is now just 0.069% (0.00069) of all rural land.
The total national area of farm land being irrigated is now equivalent to about the urban area of Auckland city (or an area about 27 kms by 27 kms).
Most of the increase in the five years from 2007 to 2012 has been in Canterbury where more than half the national growth has occured.
Almost 450,000 hectares is irrigated in Canterbury, almost all of it by spray systems. The big increase in irrigated land supports higher agricultural production, said Statsitics NZ.
Water storage infrastructure expansion is a priority for the Government following the Land and Water Forum's recent report.
However, not everyone is happy with that these objectives. Labour Party spokesperson Stuart Nash (who is not currently an MP) has said a future Labour Government would not fund water storage developments, regarding it as a private and business benefit rather than having social or public benefits. And he believes there are higher-return ways to spend this sort of money.
The irrigation industry trade group doesn't agree.
"As water storage has multiple benefits, from improved river flows to more productive farms and job creation for towns and cities, we struggle to understand why some politicians continue to see water storage as a negative. It's far too important to be treated as a 'political football'. It's an investment in New Zealand's future and one we need to make now," says IrrigationNZ CEO Andrew Curtis.
"All groups involved in the Land and Water Forum noted the importance of water storage and need for its further investigation. The political debate should focus on maximising the benefits and making storage affordable for communities," says Curtis.
In a year of significant drought, IrrigationNZ says it's even more apparent how much of the economy is driven by agricultural exports - and irrigation and water storage helps future-proof supply.
While irrigation benefited farmers, there were wider public benefits for all New Zealanders.
"Irrigation underpins the socio-economic well-being of much of New Zealand's east coast including Hawkes Bay, Marlborough, Christchurch, Mid Canterbury, South Canterbury and North Otago. There are a multitude of studies that support this. Internationally irrigation is used as a socio-economic tool to create prosperity for all – not just the irrigator. New Zealand has ample water supply. It's just not in the right place at the right time. Ignoring storage will have an unacceptable impact on our national wellbeing," claims Curtis.  
(Updated with the following Budget statement from the Minister for Primary Industries.)
$80m for irrigation - boost to economy, environment

Budget 2013 has confirmed $80 million in funding for regional irrigation projects, Primary Industries Minister Nathan Guy says.

"After the extreme drought that most of the country has struggled through this year, the need for better water storage is obvious," he says.

"There is no shortage of water in New Zealand, but we lack the ability to store and use that water when it's needed most. Currently, only 2 per cent of rainfall is used for irrigation. We need to do a better job of using this resource.

"Increasing irrigation could see a further 420,000 hectares of irrigated land becoming available, creating thousands of new jobs and boosting exports by $4 billion a year.

"More consistent river flows in summer will also have real benefits for the environment, with improved habitats for fish and birdlife.

"I'm disappointed that Labour and the Greens refuse to support this crucial infrastructure, which is so important to regional New Zealand. Once again, they are opposed to any positive moves to create jobs and exports," Mr Guy says.

The $80 million funding was announced in January and comes from the Government's Future Investment Fund, using proceeds from the share offer programme. In total, the Government has signalled plans to invest up to $400 million in regional irrigation schemes to encourage third-party capital investment.

A new Crown company will be established on 1 July to act as a bridging investor for irrigation projects. This will involve short-term, minority investments to help kick-start these regional projects.