The Weekly Livestock Report: Tight cashflows sees big sell of Fonterra wet shares, but $7/kg/ms forecast for next year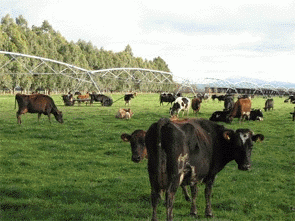 DAIRY
Gypsy week arrives and with it the first cold snap of winter that sees pasture growth rates falling, cows dried off and sent to their winter grazing systems.
A mild late autumn has helped alleviate some of the feed issues but careful budgeting will be needed as only a few winter snow occurrences can change the feed budget plan dramatically.
The feed costs associated with the drought are now showing up in tight cash flows and the wet share price of $7.92 set by Fonterra exceeded the demand from shareholders and was allocated to 80%.
Commentators suggest most of this will go on drought proofing farms and investing on upgrades for effluent dispersal rather than paying back debt as for some the focus is less on increasing production but more on decreasing costs to improve efficiency.
Lincoln Universty's dairy farm is readjusting its goals to remain highly productive and environmentally responsible without the use of Eco N, and has expanded its nearby research farm to look for better ways to do this.
Analysts suggest the dairy market price rally is over and in the US butter and cheese stocks are reported to be higher than last year. However Fonterra is optimistic  with todays announcement of a $7/kg/ms payout forecast for the 2013/14 year.
Nitrate limits are under discussion in Mid Canterbury as all parties look for an industry approach to solve these sensitive issues associated with the environment.
With government irrigation funding approved in the budget, Central Plains shareholders committing $65 million of capital to their scheme and water for the Rangitata storage lakes set for a spring fill, the drought proofing progress is now being seen in agriculture.
LAMB
Late autumn schedules have now lifted over 40c a kg from their lows, as demand for processing space disappears and April tallies reveal a much advanced kill. The focus is now on meeting customer needs for regular chilled orders that are the backbone for any price revival.
A big jump was seen in SI store lamb prices as winter approaches and supply declines, and in the north strong values have been maintained as farmers look to restock on greening pastures. The meat documentation fiasco in China has now been solved, and the PM is suggesting exporters could be compensated for the Ministry of Primary Industries tardiness.
Reports suggest the big four meat companies are in discussion for a solution to their industry woes, as the MIE group moves from its successful mandate stage to forming the "tight five" who will create details for change.
WOOL
Currency falls and shortages of supply combined to provide the biggest lift to wool indicators since the start of the year at the latest SI wool sale, and with Australian prices also hitting a 6 week high, this will provide some optimism for winter and pre lamb shearing farmers.
BEEF
Again small lifts in beef schedules this week but unfortunately more negative messages out of the US, as tough competition from pork and chicken and high prices of beef threaten to dampen the normal impetus to the start of the grilling season on Memorial day.
After nearly 3 months of flat pricing, south island markets for prime saleyard steers finally turned and winter/spring finishers will be hoping for more strong results in future sales.
DEER
Still no movement in deer schedules but a positive new industry plan reveals the Cervena strategy will be released into Europe where a 10 year goal of a $540-$660 per head return from qualifying animals is possible.
One venison processor is urging the industry to concentrate on targeting niche exporters as lack of growth and our quality programs provides a unique opportunity to target mainly higher value customers.