Federated Farmers offers a checklist of things for the coming storms, especially lifestyle block owners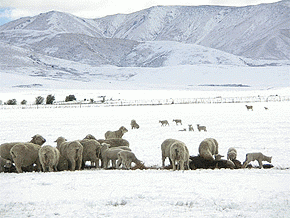 Content supplied by Federated Farmers
Farms in the South Island, which will likely feel the first blast of an imminent winter storm, are largely prepped for what winter will throw at them and their stock.
"Winter in winter isn't a problem for commercial farmers or our animals," says Katie Milne, Federated Farmers Adverse Events spokesperson.
"It is when you get winter in mid-Spring or a flood in high summer that causes us problems.  That said, if this storm runs for weeks then that becomes something you cannot fully prepare for.
"In North Island Hill and South Island High Country, farmers will have largely moved stock down into lower paddocks. Other farmers will likely be moving stock into more sheltered paddocks or ones more easily accessible for feeding out.
"While commercial farmers have heeded the MetService's excellent severe weather warnings, we need lifestyle block owners to pay close attention to their livestock too. 
"All livestock need good quantity feed when it gets cold regardless of shelter.
"Back on-farm, we are a month out from the start of calving and a couple of months away from the start of lambing.  Nature being nature and animals being animals, there is always the odd early birth and we might get more due to this storm.
"Farmers will be aware of the early animals but they are likely to get the farmer equivalent of a private maternity ward.  One thing we are all prioritising is ensuring we've got adequate magnesium in our livestock.
"If it does bucket down and it looks like it will in some parts, then farmers will use dozers, 4-wheel drives and tractors to clear access tracks and feed areas. 
"Odd as it may sound, water can become an issue as troughs can freeze.  An ice pick or a spade is a good tool to help give animal's access to water
"I guess it is also a good reminder to make sure farm equipment is in good nick as well as checking your own preparedness, just in case power is lost.
"On the coast we joke that we may have 90-days of fuel but only 90-minutes worth of bread and milk.
"Farmers need to check they've got adequate fuel, emergency food, gas cookers, candles and batteries.  Not to mention generators. 
"Another vital tool to remember is a conventional plug-in telephone.  That fancy Bluetooth cordless becomes just a paperweight without electricity to power it. 
"Our message is this; don't be afraid to ask for or accept help. Work with other farmers and where appropriate or get on the blower to your local Federated Farmers President if you need help," Katie Milne concluded.