Claude Stratford remembered as a visionary and bee industry legend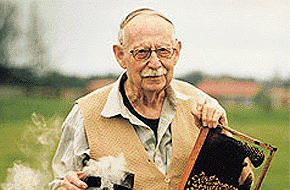 Content supplied by Federated Farmers
Federated Farmers' Bee Industry Group is paying its own respects to bee industry legend, Claude Stratford, who passed away yesterday aged 102. 
"The Executive Committee of Federated Farmers Bee Industry Group, extends our sympathies to the family of Comvita co-founder, Claude Stratford," says Barry Hantz, Federated Farmers Bee Industry Group Executive member.
"In an industry priding itself on its resourcefulness and innovation, Mr Stratford showed incredible foresight to market honey and other bee products as natural health products across a number of applications.
"Nothing says Claude Stratford was a legend better than the QSM he received and being a finalist in the Ernst & Young Entrepreneur of the Year Awards at the age of 95.
"Fascinated by bees since he was a young boy, he only founded Comvita in 1974 when he was 64."
At a time when most people of his age would have been well into retirement, he started making and selling bee products from his Bay of Plenty home and never looked back. Today, it is a $100 million company. 
"While Comvita has grown into a notable export success story his contribution to the bee industry is unlocking the potential of honeybee products as more than a tasty breakfast spread.
"Comvita and his inspirational 102 years on this earth, are full testimony to the benefits found in honeybee products," Mr Hantz concluded.