Bruce Wills says Green Dairying works when the formula is Councils+Farmers+Community = Results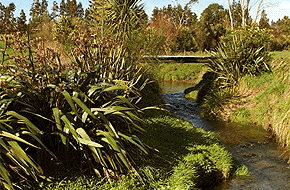 By Bruce Wills*

To celebrate its fifteenth year in print, one farming publication came to us for a snapshot of where farming was in 1998 versus today. 
Back in 1998, Federated Farmers was into its third year after voluntarily quitting a compulsory levy.
As we'd championed voluntary unionism Federated Farmers had 'walked the talk' on compulsory farm union membership.
In 1998-99, there were 14,751 herds milking 3.06 million cows and eight co-operatively owned dairy companies produced 893 million kilograms of milksolids.
There were also around 45.6 million sheep and some 4.6 million beef cattle.
Fifteen years ago, dairy accounted for over 20 percent of all merchandise exports worth around $4.3bn in 1998 dollars. Meat was number two generating about 18 percent of all exports worth $3.5bn and wool was our seventh largest export; worth a cool $933 million.
Leap forward to 2012 and dairy herd numbers may have fallen to 11,798, but cow numbers were approaching five million.
In 2012, three co-operatively owned dairy companies and several private processors between them produced 1.69 billion kilograms of milksolids.  On the other side of the ledger, sheep numbers are down to 31.9 million animals while beef cattle numbers had fallen to 3.8 million.
In terms of export performance, in the year to January 2013, dairy accounted for over 26 percent of all merchandise exports worth some $12bn. Meat remained number two but its share of all exports had fallen to about 12 percent, still worth $5.7bn.  Wool had fallen through a hole to 17th place worth 'just' $699 million.
I say 'just' $699 million, because putting wools 1998 export value into the Reserve Bank's inflation calculator gives me an answer totalling $1.6bn.  Wool, that natural, recyclable and sustainable fibre, remains the perfect litmus test for whether a 'green economy' is marketing hyperbole or a genuine trend. 
The New Zealand Initiative, a Wellington based think-tank, argues that because less than one percent of New Zealand is built upon, fears of 'using up all our farmland,' are grossly exaggerated. Should not the question be, 'what percentage of New Zealand is suited to pastoral farming?'
There is some 12.3 million hectares is in pastoral farming out of New Zealand's 26.8 million hectares.
In other words, only 46 percent of New Zealand is suited to pastoral farming and, as Mark Twain once famously wrote, "Buy land, they're not making it anymore".
Landcare Research responded to the New Zealand Initiative using Auckland as an example of inefficient planning.  It pointed out that Auckland's urban growth, between 1990 and 2008, has seen 4.1 per cent of Auckland's best quality farmland go under tarmac with a further 35 percent lost to 'lifestyle blocks'.
I can confidently say in 2013 we are farming on less land than we did in 1998.  Despite this our export volumes and values are generally up.  Up is also the best way to describe the way our primary industries are embracing environmental opportunities.
Take Kingi Smiler, the 2013 Allflex/Federated Farmers Business Person of the Year.  His gifted business leadership of Wairarapa Moana Incorporation, a founding shareholder in Māori Dairy Company Miraka, saw the NZ Herald note that this, "Māori -controlled dairy company which kicked off late in 2011, quickly turned a profit and already has a waiting list of potential suppliers after just two seasons".  Miraka's steam and power for its milk drying process comes from a green source and another Māori-controlled enterprise; Tuaropaki Power's geothermal power station.  
Green Dairying was also the focus of the new Sustainable Dairying: Water Accord, which has Federated Farmers as an Accord Partner.  Federated Farmers Dairy Chairperson, Willy Leferink, told me at its Parliamentary launch, "we know success won't be measured by our leading farmers or even those in the peloton.  It will hinge on how we can successfully lift the farming and environmental performance of our lower performing farmers". 
Those two things tend to go hand-in-hand because livestock thrive only with good quality water so good water is what we all want.
As farmers we need to recognise that what we do impacts the environment.
That is why this Water Accord exists because it is about farmers owning the issue from the farm gate right throughout the supply chain to the finished product.
As dairying is being so upfront it may perversely create an impression that it is all down to dairy farmers.  It is not.
To really succeed, we all need to work together on better town waste water treatment, what businesses and homeowners pour down plug holes to what we do on-farm.  Then there are other introduced animals and pests.
It all needs to be joined-up and informed by quality science because there is no 'one shoe fits all' solution.
Something DairyNZ's excellent Dr Tom Stephens reinforced at our national conference on the respective impacts of nitrates and phosphates.
What will work is Rotorua's formula and that is Councils+Farmers+Community = Results.
-------------------------------------------------------------
Bruce Wills is the President of Federated Farmers. You can contact him here »