William Rolleston sees turning 'swords' into 'ploughshares' in the building of robotic farms for a second Green Revolution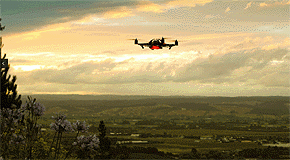 By William Rolleston*

In the very near future 'drones' could well take the place of workers in forestry and a host of different industries.
It may be a case of not wishing too hard for what the CTU wants because an obvious solution to "carnage," as CTU President Helen Kelly graphically described forestry, is to completely remove the person from the risk equation. No person, no accident.
The CTU has demanded to know how forestry will stop the "carnage" and we know agriculture is also in the CTU's crosshairs.
In 2010, the Forest Owners Association was one of the first to enter into a Primary Growth Partnership with the Government.
This has flown under the CTU and media radar but the PGP's vision is "no worker on the slope, no hand on the chainsaw".
The ultimate outcome will likely be drone logging machines, reflecting an increasing use of robotics on-farm and in our farm system.
Of course we could adopt Exxon's obsession with safety.  One article I read last year said that every Exxon meeting starts with a "safety confessional". Exxon's safety stretch even reaches into the employee's home to enforce a total safety culture. Somehow, I think even the CTU would baulk at this level of intrusion.
We already see military drones on the news where there is a human in control. Militaries, including our own, are deploying autonomous air, sea and underwater vehicles. A future of sentient robotic war fighters has even seen UN Special Rapporteur, Christof Heyns, call for a moratorium on the development of lethal autonomous robots (LARs).
What if we turned these 'swords' into 'ploughshares' as autonomous agricultural robots; making AARs not LARs.
This is not as far-fetched as some may believe. 
Robotic milking is now established on many dairy farms and robotics is seen as a potential breakthrough for the processing of meat.
Precision agriculture is seeing the marriage of GPS and tractors for the effective application of nutrients.
Today's tractors can drive themselves between waypoints reducing driver fatigue and freeing the operator to focus on other important tasks. Raglan's Droidworx picked up the Most Viable Business award at the 2013 Fieldays for miniature Unmanned Air Vehicles.
Droidworx UAV's can be fitted with cameras, sensors or even spray tanks for selective spraying.
Evolved versions could play a big role in surveying pasture quality and quantity, monitoring stock, locating poachers and perhaps applying fertiliser.
Driverless tractors and even robotic electric fence movers are not far away either.
Labour productivity in agriculture has always been New Zealand's star-turn.
Between 1996 and 2010, dairy farming labour productivity soared by almost 70 percent and for a very good reason; New Zealand's farmers readily adopt new technologies where there is a commercial payback. 
Robotics, automation and autonomy are logical extensions of this philosophy. Take Oshkosh Corporation's Terramax driverless truck. Terramax is intended for reconnaissance and freight transport in high-risk environments. As an autonomous vehicle it can work its way around roadblocks or obstructions to where it is told to go. It does not take a big stretch of the imagination to see a Terramax type system remove the drivers from harvesters and attendant trucks altogether.
-------------------------------------------------------------------------------------------------------------------------------------------
Farms For Sale: the most up-to-date and comprehensive listing of working farms in New Zealand, here »
-------------------------------------------------------------------------------------------------------------------------------------------
Harvesting times could be extended or take place when conditions are at their optimum without the need for contactor breaks or log books. 
Could even chemical pest control be displaced by legions of nano-sized 'hunter-killer' robots?  New Scientist magazine seems to think so.
So much that was science fiction when Arnold Schwarzenegger uttered "I'll be back" is now science fact. Anyone with adaptive cruise control or active park assist knows that driverless cars are just around the corner.
Business, the CTU and the government all need to start planning and adapting for these disruptive technologies. 
In agriculture, the human role will move to planning, management and maintenance, giving farmers more time to manage their businesses rather than being enmeshed in the day-to-day minutiae.
This is more time to perfect the art of farming.
I believe it is here that the physical sciences could achieve substantial world-beating breakthroughs for agriculture and New Zealand.
In global agriculture we speak of the need for a second Green Revolution. I believe autonomy along with other technologies could play a massive role in what will be agriculture's 'silicon revolution'.
The robotic farm is really a matter of when rather than if.
It is also where the recent national Science Challenges, Callaghan Innovation and the Primary Growth Partnerships provide a means for New Zealand to develop these world-leading technologies. Droidworx UAV's reminds us that around the corner are the next electric fence, the next Hamilton jet and the next tranquiliser gun.
Health and safety is critical and pressure from the CTU will have at least one rational response.
Radical though they seem, robotics and automation are a means to manage a very real health and safety issue facing our primary industries.
-----------------------------------------------------------
Dr William Rolleston is the Vice-President of Federated Farmers. This article was first published in The Press and is used here with permission.