New Zealand's big harvest likely to reverse recent declines in wine exports as stock carryover levels are low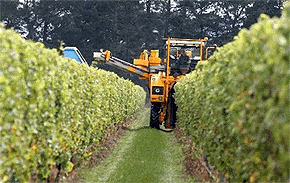 Content supplied by Rabobank
Rabobank reports The New Zealand wine harvest posted a new record of 345,000 tonnes in 2013, according to Rabobank's Wine Quarterly report released last week.
This marks an increase of 28.5 per cent on the very short 2012 crop and five per cent higher than the prior record set in 2011.
Low carryover stock levels have meant that export of 2013 Sauvignon Blanc have already commenced with 'gusto'.
Rabobank senior analyst Marc Soccio says the New Zealand wine industry is on a stronger footing to deal with the rebound in supply now that the NZ category is well established in key markets around the world.
The Rabobank report shows that wine grape production in the Southern Hemisphere appears to have been quite healthy.
Mr Soccio says, "Nearly all major southern supply countries are set to register above-average crops for 2013; with Chile and South Africa also expected to harvest record crops, and Australia to record its largest harvest in five years".
New Zealand wine export volumes have declined by eight per cent in the first four months of the year as exporters have been waiting for larger volumes from the 2013 vintage to come on-stream.
The value of trade fell more gently by 1.1 per cent as significantly less wine was shipped in bulk format over the period.
North American and Asian markets remained the bright spots while declining shipments to Australia and the UK/Europe are now likely to stabilise as stock levels have been amply replenished.
Looking at the impact of currencies, Mr Soccio says the recent gains made by the US dollar against the New Zealand dollar in recent times have "buoyed the hopes of weary wine exporters", however, the New Zealand dollar has remained more resilient than most and a lower currency takes some time to provide a boost to the competitiveness and earnings of wine companies.
-------------------------------------------------------------------------------------------------------------------------------------------
Farms For Sale: the most up-to-date and comprehensive listing of working farms in New Zealand, here »
-------------------------------------------------------------------------------------------------------------------------------------------