The Weekly Livestock Report: Balmy early spring conditions tainted by food safety scare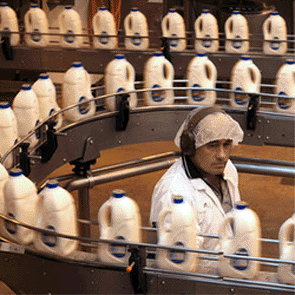 DAIRY
Spring like conditions are being experienced by many regions as calving is half way through in Northland, and Waikato farmers are holding back N applications due to above average growth at this time of year.
Fewer metabolic issues are being reported in calving and pre calving cows, and drier conditions have resulted in less mastitis being identified.
However in the market a huge storm is in progress, as Fonterra reports tests reveal botulism in a previously sold whey based product that has been used as an ingredient in infant formulae and sports drinks.
While at this stage no negative affects have been reported from consumption of these products, this is now the third major food safety scare associated with this company and confidence in food security is shaken not only associated with the brands involved, but also with all NZ food products.
How all this will affect the bottom line only time will tell but ironically just before this food scare they upgraded the 2013/14 milk price prediction to $7.50/kg ms as an indication of optimism of future prospects.
The costs of the recall will have to be borne by Fonterra and if demand is dampened as a result this projected price may be optimistic.
Investors have reacted negatively causing drops in value in Fonterra's shareholders fund and there was a fall of 2.4% on the index at the globaldarytrade platform latest auction.
Analysts suggest however the full price affect may not be seen until the next event as the market digests how Fonterra has handled this food scare and what measures it puts in place to minimise the risks of it happening again.
LAMB
Works processing lambs are now down to a minimum as volumes of killable animals are reducing rapidly and this last difficult season draws to a close.
Schedules are still rising as competition to provide product for the regular chilled customers is tight and values are closing in on where they were a year ago.
With now little stock on hand, and a Beef and Lamb forecast of 10% less lambs to slaughter for the 2013/14 season, price predictions by Silver Fern Farms of $5-$5.30/kg give sheep farmers some optimism for the upcoming spring.
Prime and store lambs in the saleyards have been firming steadily as the winter progresses and numbers dwindle and the few store breeding ewes offered have met strong demand.
Early season lambs are now being seen in areas of Canterbury and Marlborough and Gisborne reports  good recovery to previously droughty pastures.
New leadership at Alliance was announced with Murray Taggart taking over the chairman's role, and it is hoped his more youthful leadership will help drive a more profitable red meat sector.
Beef and Lamb's chairman Mike Petersen has kept the pressure on those involved with red meat restructuring urging decision makers for action well before this new season starts .
WOOL
The last Christchurch wool auction saw a small supply return disappointing results and passings returned to higher levels.
The crossbred market is up however, about 75c/kg clean on the similar sale last year, and prelamb wools are starting to regain the premium they deserve.
Finer wools are struggling however, and merino farmers are praising the existence of medium term contracts which are at present yielding values ahead of the market.
Like all our agricultural products much of our market optimism relies on Chinese purchasers and when that eases from the east, so does the market.
BEEF
Tight import and US domestic beef supplies are ruling imports into that country and some upward price movements are being seen.
Bull, and prime beef schedules are lifting slowly as the early kill has created shortages at the end of the season.
Bobby calves are now in increasing numbers at saleyards and autumn born weaners are attracting strong interest.
Store animals appear to be in short supply with the mild conditions activating the grass market demand a month earlier than normal.
DEER
More spring schedule rises have seen southern prices break the $7/kg barrier and it is hoped the lower Euro currency will stimulate more upside yet.
The relocation of the Invermay research centre to Lincoln will dismay many southern deer farmers as the contribution of it's scientists into the growth of deer farming was immense.
The recent funding to provide a diagnostic test for Johnes diseases is one example of the partnership between Invermay and Otago University that will prove invaluable to rid this disease from our livestock.
---------------------------------------------------------------------------------------
Here are some links for updated prices for
- lamb
- beef
- deer
- wool