Bruce Wills says we must prove to customers that our high standards are more than words. Critical self-examination and then action, will go a long, long way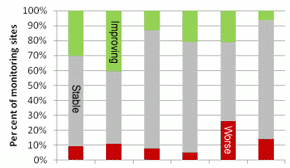 By Bruce Wills*

In the space of a few days you can say that farmers have gone from Mt Everest to the bottom of the Marianna Trench.
Last Thursday there was celebration that the 2013/14 forecast payout would clear overdrafts built up over the drought.
Then came news Clostridium botulinum had been found in the whey protein concentrate, WPC80.
I sense we may just be getting through the worst of this initial crisis.
Yet one unsanitary pipe at Fonterra's Hautapu factory must not be allowed to define 120-year's worth of hard work.
The reaction here and abroad has been completely understandable.
I myself have spoken to the Chinese media to offer the reassurance of farmers. My colleagues on Federated Farmers' Board have been speaking with our local media too.
People want to know what they consume is not only nutritious but safe, especially where children are involved. 
Fonterra's recall was ultimately precautionary but it has been seemingly successful. We can give thanks that it did not stem from illness but instead came from product testing.
That is a huge positive because Fonterra blew the whistle on Fonterra, as our Willy Leferink wrote recently.
Yet consumers deserve to know what they consume is safe.
On that score 2,499,962 tonnes of Fonterra product was unaffected.  Another point, especially for concerned Chinese consumers, is that all of the products produced by New Zealand's other dairy processors are completely safe.
Everyone seemed to recognise that consumers deserved facts and not speculation. Wherever they are, we must ensure our consumers have easy access to the information they need and in a format and language they understand. There are important things we must learn and implement as a global exporter.
I have heard some farmers call for heads to roll but now is not the time for grand gestures. 
Right now, with the recall contained, Fonterra is starting to ask internally the 'who, what, why, when, where and how' questions.  Externally, government will be doing exactly the same thing and in the full media glare.  It must be open and self-critical. 
New Zealanders are honest people who try to continuously improve and do things better. That means we must prove to our customers that our high standards of food production are more than words. We must prove that by our deeds and actions. Openness, critical self-examination and then action, will go a long, long way.
Opportunistically, one opinion writer in the NZ Herald used this recall as a reason to end our nation's dairying reliance; embracing technology instead. Of the many comments I read, one colourfully said "this falls into the trap of 'either or'. Aside from the opportunistic timing, which feels like a kick in a sensitive part of the anatomy; farmers do not stand in the way of new enterprise. We welcome new exports, whether services or merchandise based". 

That person has a point because this opinion sounded like how coaches of the All Blacks were fired after world cup defeats.  This food recall has been bad but that should not consign 26 percent of our exports to the scrapheap when nothing can fill that void.  There is no reason why we cannot have dairy and high tech too.  They are complementary because much of our high tech sector relates to the primary industries. 
Aside from Fonterra bumping the GCSB  to one side, it also sadly bumped some exceptional news about water quality.
In a whole decade typified by dairy expansion and that word, 'intensification,' the Ministry for the Environment (MfE) found that New Zealand's water quality is either stable or improving.
This wasn't in one catchment but in 90 percent of the water sites tested.
Despite water quality being officially stable to improving, some still refuse to believe because it is counter to the web they have woven. 
Farmers are one part of the water equation just like we are with the companies we trust to process our product.  As the MfE dryly commented on a decade-long trend for the better, "… this may reflect a general improvement in land management and wastewater treatment practices".
The amazing thing is that these positive outcomes are happening without a telephone book sized set of rules.
Water quality is a long-run thing and policy timetables must reflect reality. The MfE's results may not be "the beginning of the end. But it is, perhaps, the end of the beginning".
-------------------------------------------------------------
Bruce Wills is the President of Federated Farmers. You can contact him here »