Six of twelve lakes show improved water quality, and several lakes now meet their water quality target, says BOPRC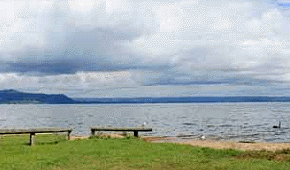 Content supplied by Bay of Plenty Regional Council
Rotorua Te Arawa Lakes Programme partners are pleased with recent results for water quality in several lakes.
Water quality in six lakes has improved in the past year, and water quality targets in several have been met or exceeded.
Work to improve water quality is done in partnership with Bay of Plenty Regional Council, Rotorua District Council and Te Arawa Lakes Trust. Annual monitoring outcomes have given some very positive results, Bay of Plenty Regional Council General Manager Natural Resource Operations Warwick Murray said. 
Targets for each lake were set in consultation with the community, based on a point in time when people were happy with the water quality. The water quality measure, called the Trophic Level Index, is calculated based on four areas of lake health – total nitrogen, total phosphorous, water clarity and chlorophyll-a.
Mr Murray said the results were excellent, but the work was not yet done.
"To have six lakes with improved water quality from last year, and to have several lakes meet their water quality target, is a fantastic result," Mr Murray said.
"These results would not have been possible without the support of the Crown and the Rotorua and wider Bay of Plenty community, and without the committed actions of the partners and funders of this programme. 
"Lake Rotoiti's water quality target was met for the first time and was the best since monitoring began in 1991. This shows the success of the Ohau Diversion Wall and sewerage reticulation.  This is great news for the community and the programme," Mr Murray said.
"Lake Rerewhakaaitu's target was also met. Farmers in this catchment, with our support, are developing their own catchment plan to improve lake water quality and have committed to undertake all actions identified in the plan by 2015. They should be congratulated for the work they have already done and can take some heart from the improvements we are already seeing," Mr Murray said.
While the annual results were promising, external factors such as climatic conditions could affect water quality from year to year, so it was important to look at the long-term trend in each lake.
The long-term trend in six lakes also showed improved water quality and while these results were encouraging, there was still a lot of work to be done on some lakes, Mr Murray said.
"Lake Rotorua and Rotoehu have improved significantly which is fantastic. The improvements have been primarily due to our in-lake interventions such as alum dosing and efforts by the Lake Rotorua farmers to improve farm management practices. Interventions like alum dosing have been very successful in improving water quality, but it is only buying time in the short term while we make the long-term changes needed to reduce nutrient losses in the catchment," he said.
"Lake Rotorua water quality declined slightly from a Trophic Level Index of 4.08 last year to 4.24 this year. With the target of 4.2 this is still a good result, but we can't be complacent and think we have fixed the lake. Significant reductions in the nitrogen load to the lake are required for sustainable improvements in the long-term.
"We are working with the Lake Rotorua Stakeholder Advisory Group (StAG) to develop rules that give farmers the certainty they need to make the necessary changes to meet the very challenging nitrogen reduction targets. A combination of short-term and long-term solutions are needed," he said.
"Our focus has changed from short-term measures to long-term interventions, such as reducing nutrients from land-use activities. Over the next year a key priority for the programme is to progress the development of rules and an incentive scheme for Lake Rotorua, which will ensure the costs are fairly shared and that all stakeholders in the catchment do their bit to achieve the water quality targets for the lake," Mr Murray said.