Storing rain water which makes so much sense, the IPCC report included it notes Bruce Wills. NZ pasture farming makes us agriculture's leader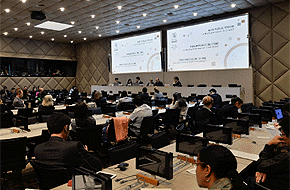 By Bruce Wills*
Not to give you the wrong impression, but I am writing this column from Geneva, where I have co-presented the World Farmers Organisation's trade policy to the World Trade Organisation.
I am back in Europe thanks to the WTO but it has helped to advance New Zealand's agricultural diplomacy.  
As a trading nation, we absolutely depend on trade in a world that is utterly dependent upon food.
There are some things which keep me awake at night.
Adverse weather events and biosecuirty being chief among them but there is a third which increasingly gnaws at me. That is a perfect storm of food production not keeping pace with a world population expected to hit 9.3 billion stomachs in the year 2050; an amazing 2.3 billion more than today. 
Henk-Jen Brinkman, of the United Nations Peacebuilding Support Office, called food insecurity "a threat multiplier".
In one column I read, he said it creates a "vicious cycle from violence to food insecurity and from food insecurity to violence that needs to be broken".
That is a huge role for farmers the world over and especially a key diplomatic role for New Zealand as a world leader in agriculture.
One instructive read is produced by the Woodrow Wilson International Center for Scholars and is called "Harvesting Peace: Food Security, Conflict, and Cooperation."  It sounds like a prescription for 'NZ Inc'.
The tangible outcome of being up in Europe was announced on Monday by the Primary Industries Minister, the Hon Nathan Guy.  He announced that the Government will fund a programme for farming leaders to travel to New Zealand on an agri-tech study tour.
This is New Zealand helping to boost global food productivity while helping to reduce global agricultural greenhouse gases.
I can tell you it was welcomed by the World Farmers Organisation for which I am the Oceania Board member. New Zealand is seen as a global leader in pastoral agriculture and as an organisation, Federated Farmers regularly hosts both farmers and journalists as they seek to learn how we do it. 
The study tour concept is a chance to formally fuse scientific, trade and technological knowledge.
The world needs all of its farmers firing on all cylinders so there is plenty of scope for us all as many more humans join us than leave.
The cost of failure will be conflict exasperated by our ever changing climate. While some, including the Intergovernmental Panel on Climate Change (IPCC) argue the climate is man-made, others either claim it is natural while others seem to be indifferent.
Hopefully, we can all agree that our climate is ever changing and that has been a consistent position by Federated Farmers.
Another theme I took reading the IPCC report in Europe, is that it is sensible to build resilience into our farms, our businesses and our society.
New Zealanders can be very proud that our farmers are among the most carbon efficient in the world. Our global leadership can be seen in the Global Research Alliance on agricultural greenhouse gases and the Palmerston North based Pastoral Greenhouse Gas Research Consortium.
Our efficiency saw the UK's right-leaning Daily Mail last year write, "Buy New Zealand lamb to save the planet." In May, the UK's left-leaning Observer on Sunday, ran a feature entitled, "Why worrying about food miles is missing the point." In it, New Zealand's carbon efficiency on diverse products from apples to lamb was lauded.
Now, the IPCC warns us that New Zealand could face a future climate of heavier extreme rainfall, stronger and more extreme winter winds and longer periods of drought.
It seems like trading places, but while farmers and many councils plan for climate change infrastructure, these initiatives are being decried by those who have been loudest in calling for New Zealand to 'do something about climate change'. The world, after all, wants us to be the most efficient food producer we can be.
So we have two options for adaption.
First of all we can research new crops and pasture varietals in the knowledge that farms will face greater environmental stress. As Dr William Rolleston said last week, this demands an on-going and bipartisan ramp up in both our agricultural research and development spend and science capability.
The second, of course, is the huge opportunity we have to store rain water which makes so much sense, the IPCC's last report included it.
This constant for water remains irrespective of what current land uses are or what they could be in the future.
In another forty years who knows what the dominant land use may be but what we know is this, crops and pasture generally needs soil, sunlight and water.
As the climate changes so will the pressure on global food resources.
That puts New Zealand front and centre of being a leader.
-----------------------------------------------------------------------
Bruce Wills is Federated Farmers President