Danone 'able to measure fallout' from Fonterra's false safety alert; makes no mention of impact of China bribery investigations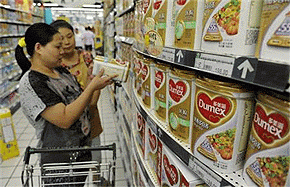 Giant French food company Danone reported its third quarter results overnight, including the impact from Fonterra's 'false safety alert'.
They say results have been strong in all areas except in the 'Baby Nutrition" markets.
"In the midst of these positive trends, we had to address the false alert issued by Fonterra in early August, triggering the recall of selected infant formula products in eight Asian markets," the company's Chairman noted.
"We are now able to measure fallout from that event clearly, including both the short-term financial impact and the resources and time required to recover our positions. In the short term, this will weigh on our sales, our operating margin and our cash-flow, which has led us to adjust our full-year 2013 targets. Our priority is to get back on track for strong and sustainable growth in this region as early as possible in 2014."
Their Q3 revenues in that 'baby Nutrition' division declined 8.6% from a year earlier, while volumes fell 7.3%. That represents an estimated €170 million in lost sales for the full quarter.
"Action plans to restore sales are being deployed in affected markets and are generating results effectively but very gradually. As a result, Danone estimates that the incident will have a significant impact on its 2013 results, with full-year lost sales estimated at €350 million, lost margin estimated at €280 million including €170 million booked as non-current items, and an estimated €300 million loss in cash-flow."
It says it is implementing a "heavy communication campaign" and "business development acceleration" in an effort to revive sales in the category.
However, no mention was made in the company's statement of the Chinese bribery investigations at the company's Dumex unit, where it has 'taken full accountability' on its senior and sales staff in China.
These actions will complicate their efforts to claim from Fonterra because they both happened at the same time, and both damaged their brand value in China.
Separating out the Fonterra-effect will likely be difficult, enabling Fonterra plenty of negotiating delay. Fonterra has vigorously denied liability to Danone or any other supplied customer from the false alert affair.
-------------------------------------------------------------------------------------------------------------------------------------------
Farms For Sale: the most up-to-date and comprehensive listing of working farms in New Zealand, here »
-------------------------------------------------------------------------------------------------------------------------------------------