Pita Alexander tells dairy farmers to 'make financial hay' before milk prices fall; sheep farmers turn to shine is coming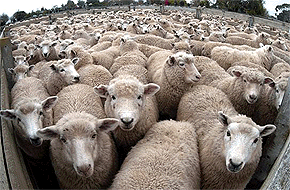 By Pita Alexander*

It struck me the other day that within five years it's more than likely that Australia and New Zealand will be able to sell more lambs than they will have available.
It's no secret that our lamb flock has been on the wane and we are another couple of million down from last summer's drought.
The law of supply and demand would indicate that better prices will result.
Scarcity is a marketing tool of a type, but it is not the whole answer.
The perfect scenario would be a growing lamb base and a growing lamb market, but the world thirst for milk has put pressure on sheep country suitable for dairying.
It's a safe bet that the United States and Europe will ramp up their dairy production at the present high payouts. It won't happen overnight but it will happen and it has happened before.
That can only lift world supplies and we know what happens next.
I would guess that within three years Fonterra will be forced into a lower milk solids payout. Farm working expenses at the farm gate keep rising at 5 to 6 per cent a year and term loan and current account interest rates will be around 2 per cent higher than now.
That means farmers need to make financial hay as hard as they can go over this period - don't fight this issue, plan for it.
Another thought worth chewing over is that European dairy farmers will soon be able to maximise their milk production. Previously they were on a quota and producing above the quota was quite unprofitable, but this may no longer be the case in 2015.
The key in Europe, Britain and the US when increasing their production tends to be feed costs. Dry years mean feed costs increase and New Zealand grass is more efficient. The price of corn and corn residue in the US has an enormous effect.
Some more musings from a farm accountant who has gone the country mile:
- The various articles in the media about the New Zealand meat industry of recent months remind me of very similar articles some 30 odd years ago. Australia has lost control of its meat co-ops - almost all are now United States or South American owned.
- With a focus on managing costs where does the pressure need to be: wages, interest, irrigation costs, fertiliser, stock food and repairs and maintenance. Income taxes are not often in the top five to six of key costs.
- Sheep and cattle farming have a low-term debt, but low profitability - dairy farmers have a high-term debt but high profitability. Debt reduction is always healthy, is good risk management and feels good, but it is not income tax deductible and is not always the best use of hard-earned cash. Usually it pays to be an autumn spender because you know exactly where you are in cash terms.
- Educate those children well. If it hadn't been for my mother I would have left school at 15 years of age - but mother was always right. A good start is English, science, maths, engineering and people skills.
- Rural term debt is currently around $52 billion, government term debt around $58 billion and corporate term debt around $79 billion with residential term debt around $185 billion. An increase of, say, 2 per cent in interest rates across the board here (which would still be no more than interest rates that existed 5 to 6 years ago) would increase the overall interest costs annually for the groups referred to above of around $7.4 billion. The Government may be able to contain its increase more than the others.
- NZ Government term debt at $58 billion is relatively well controlled, but non Government debt at $316 billion, much of which is borrowed offshore, is much more vulnerable if, for example, the NZ currency relative to other key currencies was to weaken significantly.
- Lastly, I have learnt that you must never argue with an idiot - they drag you down to their level and then they beat you with their experience.
------------------------------------------------------------------------------------
Pita Alexander is a specialist farm accountant at Alexanders. This is the first of his fortnightly columns which are first published in The Press. It is here with permission.