A2 partners with China SOE to sell its version of infant formula into the high end of Chinese markets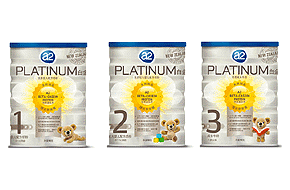 A2 Corporation is joining a number of other infant formula marketers by offering their products in China.
The Synlait-made specialty product - a2 Platinum - will be sold at high end baby maternity outlets in Beijing, Shanghai, Guangzhou, Chongqing and East China before progressively expanding to further major cities plus Hong Kong and Macau.
A2 Corporation markets milk products without the A1 protein that some scientific studies have linked with digestion and health issues.
It's products are licensed others to produce and sell.
In China, their distributor partner is China State Farm Holding Shanghai Company, and together they launched the product in the press room of the Great Hall of the People in Tiananmen Square today.
The launch event included a scientific panel discussion with key medical professionals specialising in infant and child care.
The panel highlighted the benefits of dairy based products containing only the A2 version of the beta casein protein can provide to all people, in particular infants.
The Chairman of CSF Agribusiness Group, Mr. Li Ya Cheng said "a2 Platinum infant formula expands the range of premium agricultural and aquaculture products CSF distributes throughout China. We are confident consumers will recognise the unique benefits of the a2 proposition and CSF will achieve significant distribution throughout China."
A2 Corporation operates in New Zealand, Australia, and the UK, and besides China, is looking to expand into other Asian makets, as well as North America and Europe.
The company is listed on the NZX and in the year to June 2013 it had revenues of NZ$94 million, and made an after tax profit of NZ$1.8 million.