Bruce Wills wonders why it is not an issue when cities store water to cover dry periods but some see it as a threat when rural NZ does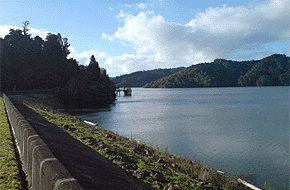 By Bruce Wills*

The challenge with agriculture is that our industry is heavily reliant on factors that are out of our control.
The weather, exchange rates and commodity prices are all very important parts of our business, but they are things we have little or no control over.
The erratic nature of farming means an unpredictable economy for all New Zealanders.
What the industry needs is the ability to harness the things we can control, to make the unpredictable more predictable.
I am talking about harnessing water.
When the droughts come, it is tough on our industry; farmer's battle dust and moisture deficits and the financial scars of serious droughts can be slow to heal. Even in town it is tough.
Weather patterns are changing we are told so we need to look at ways we can minimise the impacts of what may become increasingly regular dry spells.
After returning from World Water Week in Stockholm, where 2700 attendees came from across the globe, I quickly realised how lucky we are in New Zealand.
On a gigalitre-per-km2 basis, New Zealand gets 4 times the annual rainfall as Australia and 2½ times the rainfall as the United Kingdom, yet we let 95 percent of this flow out to sea unused by man or animal. This astounded conference attendees who were envious of the quantity and overall quality of our water.
So why is it that harnessing and storing one of the very things that can save our bacon, when times are dry, is seen as a threat by some New Zealanders?
Having a reliable source of water just makes sense and equally so, storing water in times of plenty and using in times of shortage is surely good business practice.
In fact councils all over New Zealand do this to ensure reliable water for their urban residents.
We have seen how it has turned provinces around, where water has created jobs and grown communities. Certainty and reliability makes for good business.
It concerns me to watch rural communities struggle during droughts as well as the lost opportunity of all this water running out to sea.
-------------------------------------------------------------------------------------------------------------------------------------------
Farms For Sale: the most up-to-date and comprehensive listing of working farms in New Zealand, here »
-------------------------------------------------------------------------------------------------------------------------------------------
This year's drought saw a trade deficit for the August quarter, a near one and a half-billion dollar fall in exports compared to the previous year. With farming earning well over half of New Zealand's total export receipts all New Zealanders suffer when farming suffers.
There is a trade off in everything we do and if trade declines we are all the poorer for it. As a trading nation we are dependent upon a hungry world to buy our food.
What keeps me awake at night is the uncertainty around whether we are able to keep up our food production with a world population expected to hit 9.3 billion in the year 2050. Water is a key part of New Zealand meeting this growing demand for food.
It is critical that we maintain our reputation as reliable food producers and having reliable water sources is a key part of New Zealand harnessing a sustainable future.
-------------------------------------------------------------------------------------------------
Bruce Wills is Federated Farmers President