Bruce Wills looks forward with some optimism for provincial New Zealand; says they may be 'back in the game' following some big decisions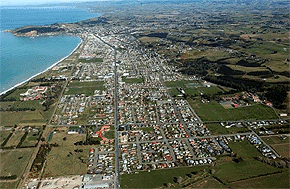 By Bruce Wills*

No one delights in job losses and my heart goes out to those posties who are facing change in the post.
Yet the Manawatu is one of the few areas which will win more than it will lose, with 180 new jobs set to come into the expanded Manawatu Mail Centre.
While NZ Post resizes and updates its business, it reminds us that provincial New Zealand needs economic development to create a future for our children.
Having looked at the 2013 Census results for the Horizons region, it tells me there is growth happening in the Manawatu District but Palmerston North has been off the boil since 2006.
The Horowhenua District is essentially treading water while the Rangitikei has seen 12 consecutive years of population loss.
Now, there is positive news that could help to reverse the loss of people and businesses. 
Confirmation that Transmission Gully will start construction next year is fantastic.
One interview I heard said it was first mooted in 1906 and while I don't know if that is true, the route between MacKays Crossing and Linden will revolutionise freight transport.
It will cut the travel time between Levin and Wellington by a whopping 40 minutes bringing Wellington's CentrePort, its interisland terminals and the international airport 40 minutes closer.
Of course, an extended runway with direct flights into a major Asian hub would supercharge the lower North Island as a global place to do business in.
AgResearch is, after all, concentrating its staff at Lincoln and Palmerston North.
At Massey University it will become part of a 'Food HQ' together with the Riddet Institute, Plant & Food Research, the Bio Commerce Centre and Fonterra.
There's potentially more good news with the Government edging closer to deciding if interisland ferry and freight services will move to Clifford Bay.
While it is a major decision with huge ramifications for Picton, the move to Clifford Bay would shave 90 minutes off a truck's travel time from Christchurch to Palmerston North and two hours for a freight train.
Throw in Transmission Gully and the time savings for trucks stretches to over two hours. That's an amazing saving not just in travel time, but in fuel too. It makes a pretty compelling argument. 
Equally compelling are plans in the Wairarapa and Hawke's Bay to store water.
The recent closure of Silver Fern Farm's former Shannon fellmongery can be seen as a late victim of this year's drought.   
Regional development is not just one big idea but a combination of new infrastructure like Transmission Gully and water storage along with the old, which does, for the near term, include the retention of rural postal services.
Perhaps the best definition of rural post came from our colleagues at Rural Women NZ; "Our rural delivery contractors provide a lifeline, delivering supplies, repairs and spare parts, animal health remedies, medicines and courier parcels".
Being a Post Shop on wheels no rural postie I know relies solely on their mail contract to make ends meet, but it sure does help the viability of their business. 
Our relief will also be shared by many a provincial newspaper. Being heavy newspaper subscribers, rural consumers attract advertising support and this advertising helps to pay for journalists to write content.
In the near term rural New Zealand still needs rural post because as StatisticsNZ found out, some 78 percent of our rural households had access to the internet in 2012. Dial-up remains common in the hinterland and even when the Rural Broadband Initiative is completed, in 2017, a maximum 86 percent of rural households will have access to it. This still leaves a large number off the RBI grid. 
-------------------------------------------------------------------------------------------------------------------------------------------
Farms For Sale: the most up-to-date and comprehensive listing of working farms in New Zealand, here »
-------------------------------------------------------------------------------------------------------------------------------------------
For urban communities like Palmerston North and Feidling there is the Ultra-Fast Broadband Initiative.
New Zealand's largest telecommunications infrastructure company, Chorus, is even running a competition at www.gigatown.co.nz to find our first 'Gigatown.'
The winning town will become the first place in the Southern hemisphere to get one gigabit per second (1Gbps) internet. That's up to 100 times faster than most 'world cities' and will make some Aucklanders cough on their biscotti.
Farmers can only dream of speeds like this but it does point to the future.
So how are Palmerston North and Feidling faring? Oamaru and its 14,000 residents are leading the race with over 51,000 points versus Palmerston North's 3,802 and Feidling isn't even in the top-10.
As NZ Post's deed will be reviewed again in 2020, following the completion of the urban Ultra-Fast BroadbandInitiative and the Rural Broadband Initiative, we are under no illusion its decision settles things forever in a day.
Yet by 2020 Transmission Gully is set to open and with Clifford Bay a possibility along with water storage and internet, there's a feeling provincial New Zealand may be back in the game.
-------------------------------------------------------------------------------------------------
Bruce Wills is Federated Farmers President