The Weekly Dairy Report: More good rains in the north matched by bouyant auction prices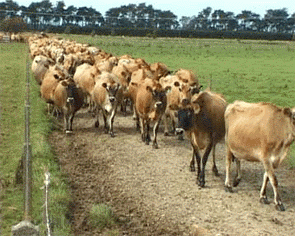 DAIRY
Even with good rains over the last week most north island areas are facing falling pasture growth forecasts as summer arrives and temperatures climb.
In southern areas recent rains have boosted feed growth rates and enhanced feed covers although the realities of reduced irrigation are coming home to roost for those with still damaged irrigation infrastructure.
Advisers are still urging planning for the summer with longer rotations and culling of inefficent cows based on early pregnancy tests.
ANZ economists are predicting record milk production that could increase last year's flow by 7% and inject an extra $4.5 billion into the NZ economy.
At Fonterra's AGM, CEO Theo Spierings urged all in the company to lift their game especially in food safety, quality and sustainability where he stated NZ was 10 years behind European farmers.
More dairy growth signs, with Westland announcing plans to invest $100 million on an infant formulae dryer in Hokitika, Shanghai Pengxin reaching the compulsory acquisition threshold in the takeover bid for Synlait, and Fonterra lifting its stake to 9% in Bega Cheese.
Not such positive news is Fonterra's progress in reaching a settlement with Danone in compensation talks over the botulism scare which looks like heading to court, and reports that the Crafar farms have lost over a $1million dollars for the new Chinese owners after a drought affected last year.
Dairy auction prices rose by 3.9% in the latest global platform results as the demand for product seems unsatisfied, with whole milk powder, the dominant milk commodity, back over the US$5,000 barrier again.
With later contracts now out until June every positive auction locks in the strong predicted payout price and reinforces a standout year for all dairy farmers.