Summer rains and normal soil moisture levels set up the season for a great rural result; drought index low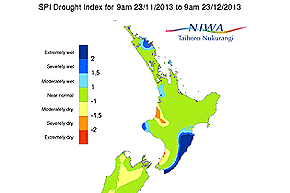 Content supplied by Federated Farmers
While holidaymakers may not be relishing widespread rain over Christmas, it will certainly bring a smile to many farmers one-third of the way into summer.
"The guy in the big red suit is delivering farmers the best present; widespread rain," says Katie Milne, Federated Farmers Adverse Events Spokesperson.
"Farmers won't have an excuse to get out on-farm but will instead have to get stuck into wrapping last minute presents. Aside from essential jobs on-farm, a few day's weather enforced relaxation with family is the best way to recharge the batteries."
"I admit what's good for us farmers may not be great for those in a tent, but every raindrop pushes back the prospect of drought."
"At least the policy signals on water storage are changing and we're seeing regions like Hawke's Bay take the initiative.  I am sure water storage is a feature of what UN Secretary-General, Ban Ki-moon, would describe as being a climate resilient community."
"It also seems that NIWA's early to mid summer outlook is bang on target. NIWA forecasted rainfall to be most likely normal or near to normal for most parts of New Zealand and that's what's being delivered."
"What is helping things immensely is the absence of those strong drying winds that so dominated spring, especially in Canterbury."
"Can I please express my thanks to all the weather forecasters who have really helped farmers out over 2013. They have really hit the nail on the head with the major weather events and that's appreciated."
"Federated Farmers will be keeping an eye on our members in Northland and we can only hope that Santa will deliver them a good soaking too," Mrs Milne concluded.