The Sheep Deer and Cattle report: Lamb up, wool down, beef steady and venison bottoms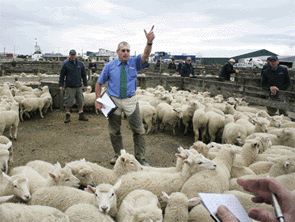 LAMB
This week more processors lifted schedules to encourage volumes for the important Easter trade and this boosted prices off the summer bottom.
Demand has been firm through the December -January period especially from Continental European markets and processors will be pleased a more balanced destination is evolving after recent dominance of Chinese sales.
Alliance announced an exclusive sole supply deal with British retailer Marks & Spencer for chilled lambs that also includes research to examine the effect of different environments and forage feeds on growth rates, carcass weights and yield on these animals.
They also upset the Meat Industry Excellence team by erroneously reporting John Monaghan had pulled out as a candidate for independent director with the company, when in fact he is still strongly committed to serve and help improve the lot of sheep and beef farmers.
The impetus of the $15 million investment into beef and lamb genetics by the Government is predicted to return an extra $5.90 per lamb within 10 years.
More breeding ewe sales in both Islands repeated early trends with low numbers and disappointing prices being the norm, and if this is not a strong enough signal of this sectors issues needing instant remedies and leadership to drive reforms, then there is lttle hope for a resurgance for the sheep industry.
WOOL
The latest two island auction saw wool prices soften even with an easier currency, as farmer expectations were ahead of what the market was prepared to pay, especially with lots of average style wools being offered, and 22% of the sale was passed.
More positive news however, from Primary Wool Co-Operative with the announcement of a record profit, a 10% dividend, 3c/kg cost rebate and new wool packs for shareholders at heavily discounted prices.
BEEF
A period of steady schedule prices continue in NZ, although the US domestic beef market reached record highs and at some stage will influence imported product.
Exporters report strong sales after rule changes in Indonesia and hope this destination will regain its place as one of NZ's top beef export markets this year.
Beef and Lamb NZ announced that the Ministry of Science and Innovation was investing $15 million in genetic research to improve genetic gain and identification of new traits that will allow improved profitability especially on hill country farms.
Conor English Federated Farmers CEO announced he is to resign after 6 years at the top, during which time he has strengthened the effectiveness of this important farmer lobby group.
DEER
At last it appears a bottom has been reached with the summer venison schedule as processors report enquires continue to pick up in a difficult market. However pricing is down on last year and leg sales have been weak, and any upturn will be slow to arrive.
However the analysis of last years kill still shows too many hinds are still being harvested as this sector struggles to compete with other land use changes as is evident with the significant amount of deer fencing not being used by deer.