The Weekly Dairy report: Northern NZ dry again but prices, demand and optimism strong for dairy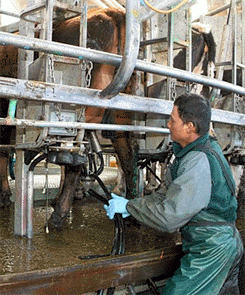 The top half of the North Island is now engulfed in its traditional summer dry period with little growth and feeding systems reliant of supplementation and utilizing conserved forages.
Most other areas are experiencing cooler temperatures and above average summer pasture growth rates, although southern managers are looking for hotter days to harden feed off.
Lincoln University Dairy farm advisers are suggesting managers should be planning now for cow dry off, based on condition scores, and more empty cows are being culled through the saleyards.
Production figures are still way ahead of last year but the next 4-6 weeks will determine how far ahead this years milk flow will end up.
Global demand is still strong even at these record high prices driven by Chinese interest even during the Chinese New Year period.
The latest auction followed this sentiment with prices up 0.5% and averaging once again over $5000/tonne, levels that will defintely sustain projected payout predictions and ensure an excellent income year for dairy farmers.
After years in decline, Dairy Industry data shows good progress on improving cow fertility rates, as this performance marker is an important influence on farm profitability, and all farmers will be pleased that tighter PKE screening is now in place after earlier reports of lax bio-security systems.
More positive price news, with Synlait milk announcing firmer profit estimates for the year, and a lift in it's projected milk payout to $8.30-$8.40/kg ms, plus closer deadlines for the start up of the infant milk formulae and lactoferrin plants.
MyFarm has registered it's first sale of shares on the share trading platform for a Gore farm, and another shipment of dairy heifers has left the port of Timaru destined for China's expanding industry.
Producers had a reminder this week just how important animal welfare perceptions are to the public with a NZ/Chilean dairy operation coming under scrutiny for its systems to dispose of unwanted bobby calves.
Reporters noted that the rules do allow use of a blunt instrument also in NZ, but as an efficent bobby calf collection and sale system exists in NZ there is no excuse for inhumane procedures in this country.