Land values could have started to enter over heated territory when assessed against historical returns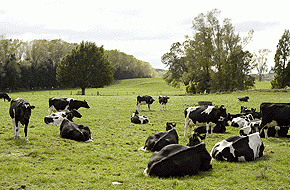 The dairy land price paid per kg of milk solids has broken through the $40/kg mark and it is being predicted to keep on climbing with land value rising by up to 9% in the coming year.
At an average of $41.50/kg, this is a 12% lift on the post global financial crisis average of $37.
Commentators in the February ANZ Agri Focus say looking back through history, the $40/kg  has been an important psychological level.
It also suggested land values could have started to enter over heated territory when assessed against historical returns.
The seasonally adjusted price for dairying properties has crept up to around the $37,000 per ha mark since July last year which is a step up the $32-$35,000 band that had been the norm post GFC.
It is noteworthy that a 413 ha property sold by Federated Farmers Dairy chairman Willy Leferink in Mid-Canterbury recently sold to Italian interests for more than $$60,000 per ha.
The land price multiple to the milk payout has averaged 4.95 since July 2013 and this was well below the 20-year average of 6.3. [This is using the farm gate forecast of $8.40 for this year's payout so given this is a record it is unlikely to be the future long-term average].
Assuming ANZ's current forecast for next season of $7.25kg of milk solids and using the long-run average land price multiple of 6.3 this implies scope for average land values to head towards the $41,000/ha or $45.70/kg milk produced mark over the coming year.
These calculations include only the revenue and productivity side of the farming equation and higher costs impact on margins and profitability. There are higher capital requirements also for cows and shares.
Cash rates
According to Agri Focus, dairying cash rates of return are likely to average 8 to 10% this year
This is the highest level since the early 2000s and well up on the 10-year average of 5%.
Normalising the cash rate of return to the long term average of 5% by changing the land value component of the equation and using an average milk payout of $7.25kg MS. This implied land values had scope to move by up up $3,000 per ha or 9% on the 2012/13 season.
The recent move upwards of up to $3500/ha implied the market was making a similar assessment.