Emissions Trading Scheme appears to be dying along with hundreds of thousands of pine tree seedlings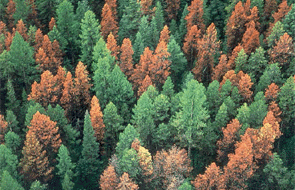 The Emissions Trading Scheme which is supposed to do the 'heavy lifting' in our climate policy "could not lift one dry Weet-Bix out of its box".
This is the view of University of Canterbury forestry expert Professor Euan Mason who sees New Zealand's initial attempt to mitigate the problem of climate change as being "on its last legs".
At least a million pine and fir tree seedlings, which had been grown in response to the ETS scheme, were recently destroyed with herbicide or mulched and ploughed into the soil because they were unsold in the 2013 planting season.
As the price of carbon credits has dropped, planting forests followed suit.
"These two-year-old seedlings were grown in anticipation of a well functioning emissions trading scheme," Mason said. "Forestry could make us fully carbon neutral while solving erosion problems and improving profitability of our hill country farms."
Planting radiata on around 2.4 million ha, which is 9% of the country's land area, or more than doubling our current plantation area on marginal lands could make the country fully carbon neutral over time.
What was needed was a rational approach and commitment from New Zealanders.
"Our emissions trading scheme is failing to change behaviour, partly because of low credit prices, and partly because we have taken a piecemeal approach to implementing it," he said.
Mason said by excluding agriculture from the scheme totally the very sector that produced more greenhouse gas than any other sector was getting a free ride.
"The piecemeal approach to our emissions trading scheme, in particular the total exclusion of our agricultural sector, has further reduced its effectiveness and its credibility."
Unrestricted imports of credits had flooded the market driving prices down.
Nurseries had cultivated the seedlings when the government indicated it was expecting increased planting.
Competing land use, particularly dairying, has also had an affect on demand.
Global carbon markets have shrunk by 60% since 2011 and by 38% last year alone.
Without meaningful emission reductions targets, the price of carbon will remain low, as Anders Nordeng, a senior US carbon analyst, said  this month.
"The main explanation for the falling prices in carbon markets around the world is the very modest emission reduction targets adopted for the period up to 2020. Without ambitious climate targets, there is no need for deep emission reductions and carbon prices will remain at low levels," he said.
"However, if the goal to limit global warming to two degrees is to be met, more dramatic cuts are needed over the next decades. The international negotiations towards a new climate agreement scheduled to be adopted in Paris in 2015 will be a litmus test on the political willingness among large emitters to make the required emission reductions."
In overall global market trading value in 2013 only €40 billion of carbon credits changed hands, and that is less than half of the peak in 2011 when the trading value was about €100 billion and about a third less than it was in 2012.