The Sheep Deer and Cattle Report: Winter lamb contract pricing sets the tone and weaner deer sell well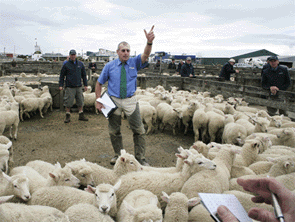 LAMB
Autumn lamb schedules have stabilised and with winter contract pricing starting at $5.85/kg and peaking at $6.50 pricing patterns are starting to be set.
The market will be tested with the Easter promotion into the UK and it is hoped good sales of chilled product will ignite the future market prospects.
Rains in the north island have seen store lamb prices receive a much needed boost after many had destocked early in the last few weeks.
Processors report market returns are much stronger than at a similar stage last year although the stronger currency is restricting full value being returned to the farmer's pocket.
Most of the areas with sheep have had a reasonable autumn and breeding ewes should have been in good condition for the rams to ensure stable lamb numbers for next years crop.
Reports suggest sheep numbers are down in Europe and the UK as well, which should bode well for strong demand for NZ's sheep meats this coming season.
Alliance has appointed a new independent director in Vanessa Stoddart and supporters of the Meat Industry Excellence group will be hoping she has reform ideology.
-------------------------------------------------------------------------------------------------------------------------------------------
Farms For Sale: the most up-to-date and comprehensive listing of working farms in New Zealand, here »
-------------------------------------------------------------------------------------------------------------------------------------------
WOOL
Wool prices at auction defied the strengthening currency and firmed by 3% with fine crossbred and lamb indicators now back over 500c clean.
In their autumn roadshows Wools of NZ have been promoting their market – pull strategy which has goals to reduce price volatility and improve wool returns per farm.
They talked about the success of the direct farm to scour service which saves 13c/kg and the of their contracts which are achieving good price premiums for quality wools.
Although stocks in NZ are reported as low, end demand is sluggish and is holding back any immediate future price rises.
BEEF
Some small easing of the beef schedules this week driven by the surging currency but exporters report the very tight US domestic supply situation should keep prices from falling much further.
Australia continues to have a big influence on the global beef trade and if it rains in key areas to break the drought and start restocking, demand will build further.
More south island calf sales have seen animals selling for similar rates as last year but finishers are happy as older animals are being sold at stronger values.
DEER
Processors report signs of a recovery with positive venison orders received from Europe and stocks are reducing and some price are lifting.
The Taihape weaner deer sale saw a 100% clearance for the quality animals offered and agents were pleased with prices and weights from an area that has had feed shortages for the second year in a row.
The Deer Industry reports good support by stud breeders for DEERSELECT as farmer demand for superior venison producing genes grows.
Faster growth rate animals are now being identified and top managers are improving production as they strive to compete with alternative land use options.