The Sheep Deer and Cattle Report: Plenty of mud for intensive beef systems but winter still relatively mild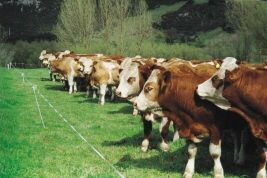 BEEF
Beef schedules have started spark into life again as supply eases and chilled demand remains, and in the US prices have picked up by 5-7USc per lb.
Small yardings of store cattle are being seen and wintering systems are being tested in areas of heavy wet soils by pugging damage. Prime cattle at saleyards have been rising in price as winter yardings reduce as quality animals are harder to produce.
There has been a spike in TB outbreaks in the south, some from wildlife infections, which reinforces the need to maintain the feral vector controls which have successfully lowered the spread of this disease in the past.
The National Fieldays have run another successful week with sales reported to be up, even though the weather reduced the attendance numbers.
LAMB
More small lifts in winter lamb schedules as companies compete strongly to satisfy chilled customers needs.
Breeding stock are settling in to their maintenance wintering systems and managers are urged to minimize any weight loss and keep quality feed for the prelambing boost.
The export mutton season has finished for the year with Chinese demand lifting prices and supply is predicted to ease next year.
Scanned dry ewes are being offered in the saleyards and attracting good local trade pricing, as have the in lamb ewes as the store lamb supply dwindles.
Silver Fern Farms and the Federation of Maori Authorities have announced a joining of forces to provide further opportunities for their dry stock farmers as they look to un-lock the potential of the large parcel of land they are responsible for.
With rabbit numbers again on the increase in Central Otago there has been a call to enforce rabbit proof fencing on lifestyle blocks as the war on this resilient pest continues.
WOOL
A stronger currency had little effect on prices as exporters chased product for contractual obligations. Indicator prices remained steady with fine crossbred now 563 and coarser fibres sitting at 530.
A double island sale on the 26th June will end the season as this weeks sale has been cancelled due to lack of volume.
The new CEO of Landcorp has announced plans for the future of this large farming company that includes benchmarking against the best farms in NZ and expanding the partnership options with Iwis and other outside investors.
------------------------------------------------------------------------------------------------------------------------------------------
Farms For Sale: the most up-to-date and comprehensive listing of working farms in New Zealand, here »
-------------------------------------------------------------------------------------------------------------------------------------------
DEER
Processors report negotiations with importers for game season product has gone well, as the chilled production season is soon to start.
The rise in venison schedule will be eagerly awaited by all producers after a longer than normal time at the seasonal low.