Today's fall in dairy prices may see export values fall $5 bln, drive up the current account deficit to 6.5% of GDP and still have downside risk, says Peter Redward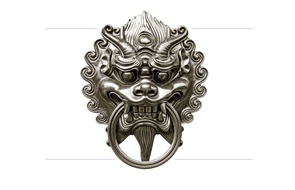 By Peter Redward*

Overnight, the bi-weekly Fonterra Global Dairy Trade auction plunged 8.9% bringing the decline since its February 2014 peak to 35% and in NZD terms the decline is a whopping 39.5%.
Our back-of-the-envelope calculations suggest that Fonterra are likely to significantly downgrade their farmer payout in the not-to-distant future, possibly to as low as NZD 5.50/kg (see Figure 2).
Year-to-date, our NZ commodity price index has slumped 22% driven by dairy products (-16.9pp), forestry (-7.4pp) and metals (-0.9pp), offset slightly by beef and lamb (1.9pp).
We see scope for a further decline in dairy product prices and a slide in meat prices given the recent plunge in prices of soybeans, corn and wheat, which will significantly lower the input cost of production for grain-fed dairy operations as well as grain-fed chicken and pork and feed-lot beef.
The slump in our NZ commodity price index suggests considerable downside risk to both the ANZ and CBA commodity price indices.
Our commodity price index leads the terms of trade by two quarters with a correlation of 0.88 and indicates that the terms of trade is likely to slump around 15% through H2 2014.
Moreover, the slide in our commodity price index is indicative of a sharp reversal in the value of merchandise exports.
In the 12-months to May 2014, exports of milk powder, butter and cheese were worth NZD 15.3 bln.
Assuming the decline in the GDT price index is sustained, it suggests that dairy product exports could fall by somewhere in the region of NZD 4-5 bln (after adjusting for increased production) consistent with roughly a 15-20%y/y decline in merchandise exports.
The slump in New Zealand's commodity prices will weigh heavily on the current account balance over 2015-16. We project the deficit to rise from a cyclical low of NZD 5.9 bln (2.6% of GDP) in Q2 2014 to NZD 15.5 bln (6.5% of GDP) by end 2015 and we see downside risk to this projection.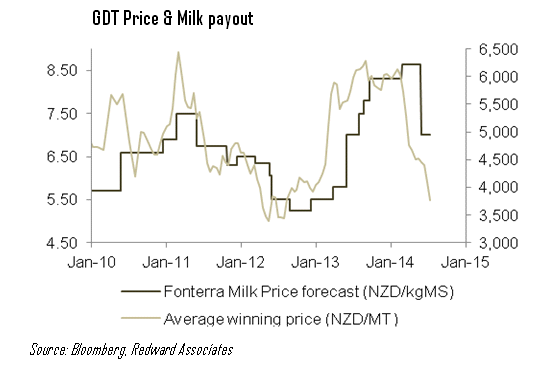 ---------------------------------------------------
Peter Redward is the principal at Redward Associates. You can contact him here.